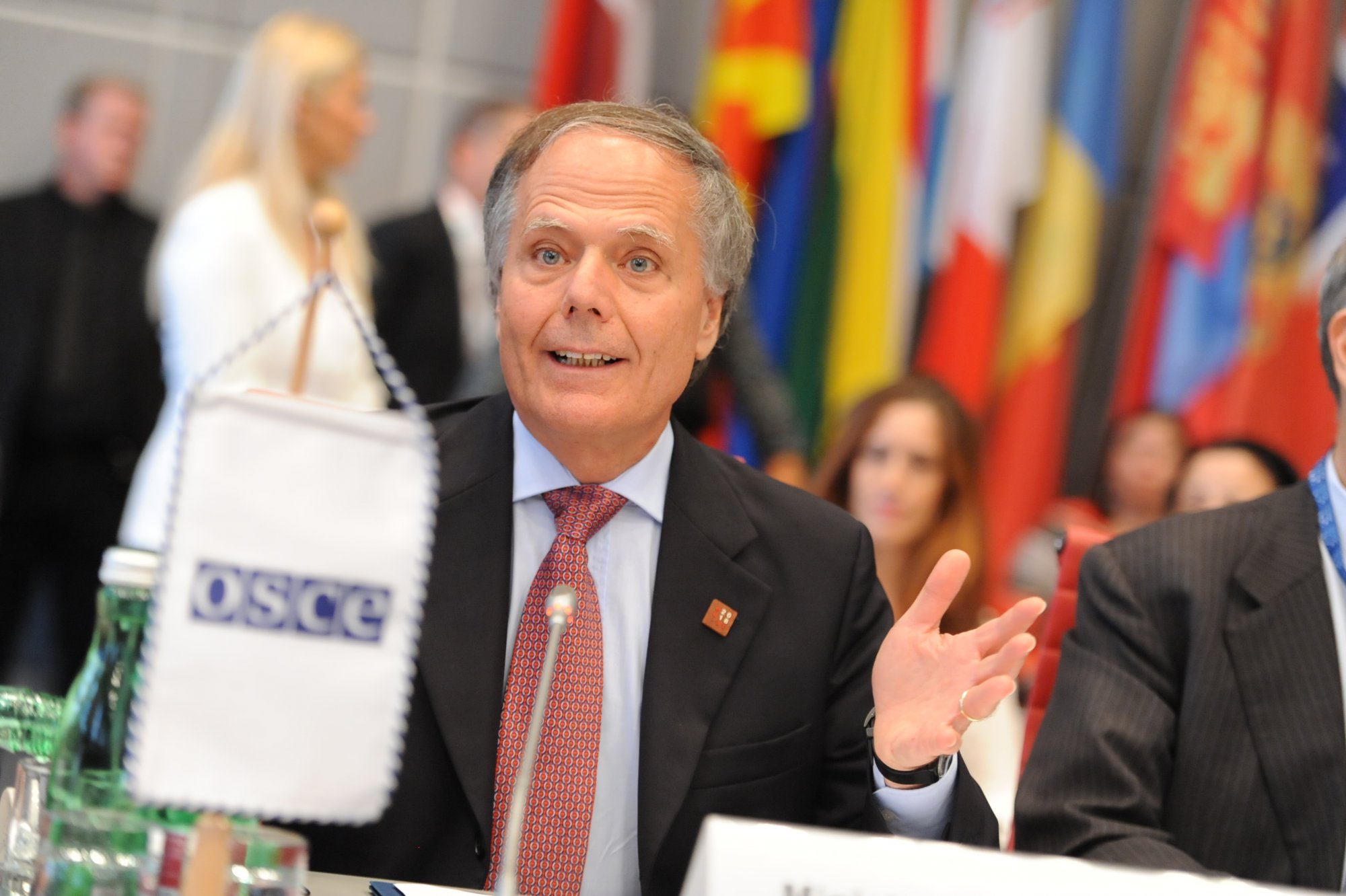 "Guaranteeing security to our citizens must be our guiding star"
Today the new OSCE Chairperson-in-Office, Italy's Foreign Minister Enzo Moavero Milanesi, gave his first address to the OSCE Permanent Council in Vienna since being appointed new Foreign Minister of Italy.
The address by Moavero Milanesi confirmed that the priorities of the 2018 Italian OSCE Chairmanship have not been affected by the change of government in Italy.
Moavero Milanesi called the OSCE a "unique platform with the clear objective of guaranteeing security of countries and its citizens".
Referring to the main priorities of the Italian Chairmanship, Moavero Milanesi named three issues of particular importance.
As a first priority, he mentioned the issue of Mediterranean security and related migration challenges. He described the Mediterranean Sea as a "fragile, delicate and sensitive area that is constantly affected by migration flows from Africa". Moavero Milanesi called on all states to cooperate closely on migration and to start seeing it as a "shared responsibility without national caveats or misgivings". This statement was also a reflection of a debate that is ongoing among EU member states, where Italy is pushing for more solidarity and burden sharing.
Secondly, Moavero Milanesi emphasised the importance of dialogue to overcome differences. In this context, he referred to the conflict in Ukraine and expressed support for the established negotiation formats, including the Trilateral Contact Group and the Normandy Format. "All people affected by the conflict have a right to live in peace and to look into the future with confidence," he said.
Moavero Milanesi also referred to the protracted conflicts in the OSCE region, including in Transdniestria, South Ossetia and Nagorno-Karabakh. "We will strive to reconcile positions through dialogue and negotiations," he stressed. On Transdniestria he welcomed the recent progress made under the Rome Protocol, which brought the Transdniestrian and Moldovan sides closer to overcoming major differences.
As a third point, Moavero Milanesi underlined the importance of combating transnational threats such as terrorism, cybercrime, organized crime and trafficking in human beings. "These are not global challenges but rather global scourges. We therefore must join forces and act together," he emphasised. He also informed that Italy will host a conference on improving cyber security in Rome in November.
Furthermore, Moavero Milanesi said that Italy would continue to invest efforts in all three security dimensions of the OSCE. In this context, he noted the important work on conventional arms control issues. He also said that Italy will host a conference on the fight against corruption in Rome in November. With regard to human rights he said that "the well-being of the people in our countries must be an important objective of our multilateral organization. We therefore must combat all those issues that can disrupt our societies, including xenophobia, intolerance and racism".
"If we work together we can guarantee our citizens sustainable security. This should be our guiding star," Moavero Milanesi concluded his address.
Enzo Moavero Milanesi was appointed Foreign Minister of Italy on 1 June, following the March general elections in the country and the subsequent formation of a new government. Moavero Milanesi today also took part in the informal meeting of EU Foreign Ministers in Vienna.