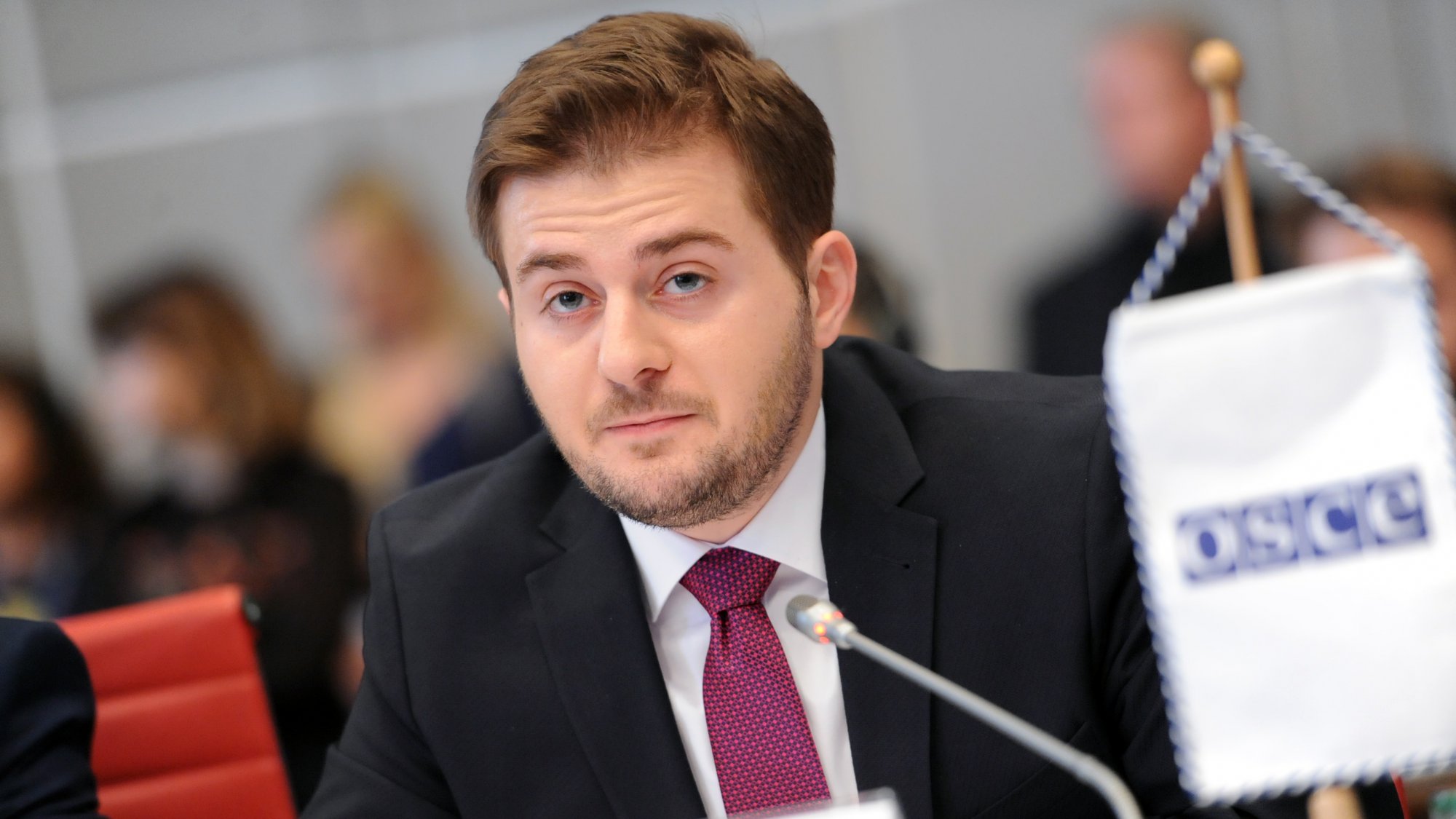 Albania prepares to take over OSCE Chairmanship in 2020 amid political crisis
The upcoming Albanian OSCE Chairmanship wants to focus on "implementing commitments together" and acting as "honest broker among participating States with a spirit of service", the Albanian Acting Minister for Europe and Foreign Affairs Gent Cakaj told the Permanent Council on Thursday.
Albania is currently in the midst of a political crisis with anti-government protests taking place that are aimed at forcing socialist Prime Minister Edi Rama to stand down. Cakaj reassured the Permanent Council in Vienna that "Albania's democracy is resilient enough to cope with such challenges".
Conflict resolution and prevention will be on top of Albania's agenda during its upcoming OSCE Chairmanship, with a particular focus on the crisis in and around Ukraine, which according to Acting Foreign Minister Cakaj "remains the most pressing security challenge in Europe".
"While we welcome recent positive developments, such as the completion of forces disengagement near Stanytsia Luhanska – underscoring once again that progress is possible given political will – we remain worried by the number of ceasefire violations and by the frequency of threats against OSCE monitors," Cakaj said.
Furthermore, Albania wants to place particular importance on the role of women in peace processes and on combating violence against women. "I was shocked by the findings of the recent OSCE-led survey on violence against women. We need to redouble efforts to ensure a safer and prosper future for all women and girls in our region," Cakaj stressed.
Referring to the increase in military tensions in the OSCE region, the Acting Foreign Minister also said that confidence- and security-building measures (CSBMs) as well as mil-to-mil contacts played an important role in "increasing predictability, reducing risks and ultimately contributing towards increased transparency and trust in the OSCE area".
In this context, Cakaj recognised the role of the Forum for Security Cooperation in promoting existing CSBMs and arms control regimes. Referring to the so-called Structured Dialogue, the OSCE's platform to discuss military and other security threats, Cakaj said that Albania intended to use it to "its full potential to increase trust and lay the ground for further OSCE achievements".
Making full use of the OSCE's toolbox, Tirana also wants to address transnational threats such as violent extremism and radicalization, returning foreign fighters, organised crime and all forms of trafficking.
Albania will also prioritize the fight against corruption and the promotion of good governance. "Corruption erodes the foundations of trust between citizens and the state. It is the main obstacle to economic growth and fuels inequality, impunity, and instability," Cakaj said.
Looking at the human dimension, which has come under increasing pressure in the OSCE in recent years, Albania wants to place particular attention to fighting racism, xenophobia and other forms of intolerance.
Following a tradition from previous Chairmanships, Tirana will also focus on enhancing the role of youth in maintaining peace and security across the OSCE region. "We value the positive role of youth towards a culture of peace, dialogue, justice and peaceful coexistence, trust and reconciliation."
Finally, Acting Foreign Minister Cakaj called on participating States to "engage constructively" in the budget negotiations "to ensure a swift adoption of the 2020 budget". Cakaj's call alluded to the fact that in recent years, the adoption of the OSCE annual budget was frequently delayed due to states engaging in complicated horse-trading, thereby blocking consensus which is necessary for the adoption of the budget.
Albania, which joined the OSCE only in 1991 and hosts an OSCE field operation in Tirana, stepped in to chair the OSCE in 2020 after Norway withdrew its candidacy unexpectedly already back in 2017.
The OSCE Chairmanship is widely seen as an opportunity for the country to showcase its diplomatic skills and to increase its visibility on the international stage. This is considered to be in Albania's interest given the fact that Tirana has long been hoping for the opening of accession talks with the EU.