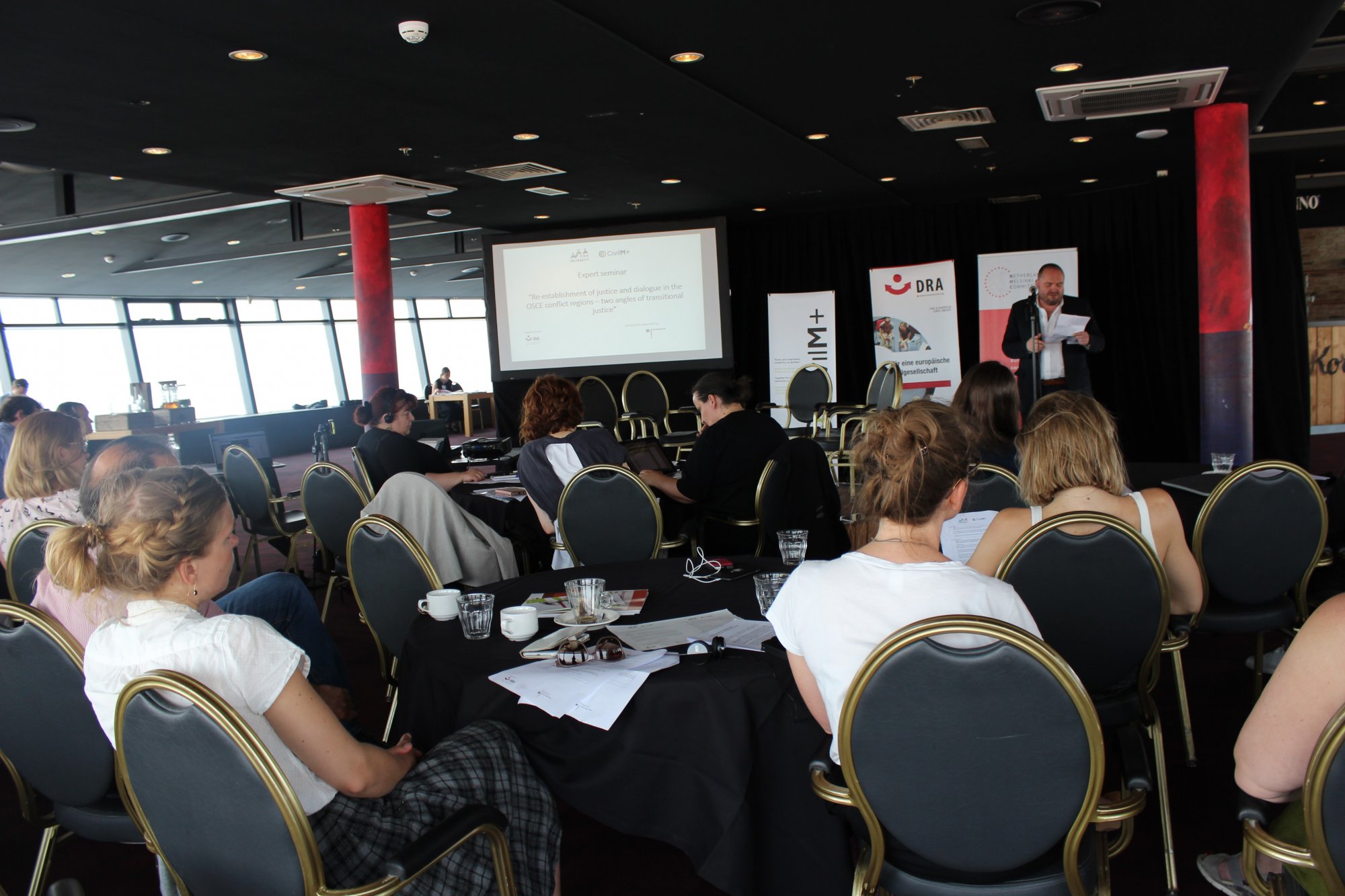 Establishing justice and facilitating reconciliation
In June representatives of civil society from Russia, Ukraine, and other European countries took part in a seminar on establishing justice and facilitating reconciliation in conflict affected areas in the OSCE, with a particular focus on the Ukraine conflict. The seminar looked at human rights and peace approaches in dealing with conflicts and their aftermath. It was organized by German Russian Exchange (GRE), and the Netherlands Helsinki Committee. GRE serves as the secretariat to CivilM+ a civil society network for conflict resolution in the Donbass. The NHC serves as secretariat to the Civic Solidarity Platform, a human rights network covering the OSCE region.
The first day opened with speeches by representatives of the UN and OSCE, and several sessions on different aspects of transitional justice. Eva Schmidt, Head of the Administration of Justice, Freedoms, and Civic Space Unit at the UN Office of the High Commissioner for Human Rights spoke about how the work of international organizations like the UN contributes to accountability and transitional justice issues. In particular, their findings and assessments can "inform on questions of transitional justice" and be relevant in discussions at the International Criminal Court (ICC) on complementarity—the principle which allows the ICC to investigate cases only when national governments are unable or unwilling to do so genuinely.
Wolfgang Sporrer, Head of the Human Dimension Unit of the OSCE Special Monitoring Mission to Ukraine (SMM), spoke about the mission's work. He emphasized that the scope of SMM activities goes well beyond observing ceasefires agreed upon within the Minsk protocol. It has had a presence in Ukraine since before the breakout of the armed conflict and has a "wide political mandate" in monitoring and facilitating dialogue among all parties to the conflict. This mandate covers the entire country and a variety of issues from security to human rights, and its daily reports on the security situation are publically available. "In short it has a mandate aimed at stabilization and normalization of the country," he said.
Framing narratives for reconciliation
Sporrer also described the OSCE's attempts to contribute to future reconciliation by producing narratives of the conflict. In particular, the SMM is conducting in-depth interviews to "showcase how the conflict has affected the lives of people regardless of what side they are on". Schmidt echoed this by calling for the need to "collect and disseminate impartial correct information for people on both sides of the conflict line and about both people on both sides of the conflict line".
In the panel discussion on "how to escape dead ends" Izabela Kisić, Executive Director of the Helsinki Committee for Human Rights in Serbia spoke about the role of narratives in preventing reconciliation, stating: "The narratives Serbia created during the [Yugoslav] war are still there…as long as these narratives stay the same there is no hope for true reconciliation." Kisić went on to say education was one of the "most important mechanisms of transitional justice especially" and that we needed to "speak with [students] about narratives and causes of war, otherwise we may create a new post-war generation of nationalists that could be ready to engage in another conflict in the future". Similarly, Paata Zakareishvili, Former State Minister of Georgia for Reconciliation and Civic Equality, called for the need to understand each other better, to which common narratives could contribute.
The role of civil society
Another topic discussed was what role civil society could play in reconciliation. Schmidt said all actors involved in a conflict needed to "pave the road for transitional justice" as soon as possible. One such step are mitigation measures, with civil society playing a key role. These measures include activities which address the everyday concerns of people in conflict affected areas, and which contribute to building trust across conflict lines. Civil society has the potential to increase the legitimacy of processes based on its deeper roots in local society. They are also better equipped to provide better understanding of a situation which could help in forming adequate narratives during and after a conflict.
Safi van 't Land, Programme Officer at Impunity Watch spoke about the importance of inclusive processes, reminding the audience that "sometimes those at the table are the ones driving these systems of hostilities and violence" therefore having a wider group of people involved can increase likelihood of success. She said often civil society is given more of a "peripheral role in design and implementation" of transitional justice processes and called for a more holistic approach that serves to strengthen civil society leadership in these processes. NHC Senior Advisor, Harry Hummel later explained: "The OSCE has in different countries contributed to positive steps regarding aspects of transitional justice but is missing an organization-wide doctrine on the topic." He also expressed his hope that civil society would be able to contribute to such a doctrine.
The opening session touched on topics the participants would dive further into the following days. It also provided an opportunity to get several civil society organizations together, from both Ukraine and Russia, to discuss how they can cooperate further. In general, there was a universal recognition of the need to keep dialogue open between groups on different sides of conflict lines, in order to work out complex issues like transitional justice and reconciliation.