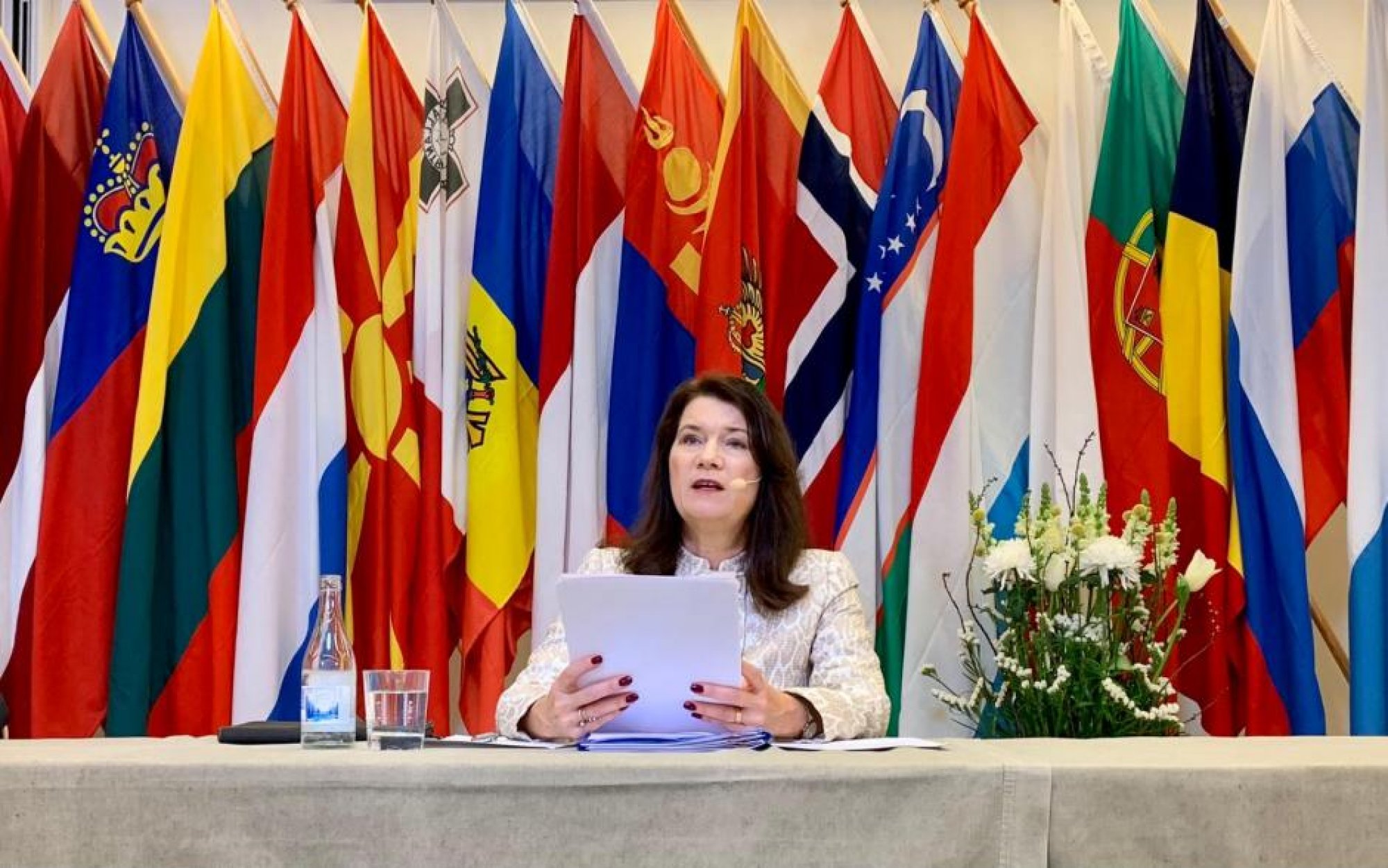 Stockholm OSCE Ministerial Council Meeting Opens Amid Growing Tensions
The annual OSCE Ministerial Council will meet today and tomorrow in Stockholm, Sweden, amid increasing tensions and multiple crises in the OSCE region. The meeting will be presided over by the Swedish Foreign Minister Ann Linde.
In Ukraine, in recent weeks, the OSCE Special Monitoring Mission has faced restrictions on its movement across the contact line, preventing the mission from carrying out some operations.
In addition, Russia is positioning troops near the Ukrainian border amidst worrying reports that Moscow has plans for large-scale military operations against Ukraine.
In Belarus, human rights continue to be systematically violated, with authoritarian leader Alexander Lukashenko clinging to power despite a disputed election in 2020 that the OSCE Moscow Mechanism report found to be "rigged".
In addition, the crisis on Belarus' eastern border remains unresolved with thousands of migrants from the Middle East stranded between Poland and Belarus.
Fresh skirmishes and ceasefire violations also took place two weeks ago along the border between Armenia and Azerbaijan.
Blinken and Lavrov expected to meet
Tensions between Russia and the West have also been rising continuously over the past few months. In October Russia suspended its mission to NATO and closed down NATO's liaison office in Moscow, leading to a further decline of military-to-military contacts between the two sides. In addition, there is no formal dialogue between Russia and the European Union.
The OSCE Ministerial Council is a place where these pressing issues can normally be discussed and tensions can be de-escalated. But success depends on the political will of the states concerned. If there is no political will, states will risk a Ministerial Council meeting that fails to deliver results.
U.S. Secretary of State Antony Blinken is expected to hold a bilateral meeting with Russian Foreign Minister Sergey Lavrov on the margins of the OSCE meeting, where it is expected that Ukraine and other pressing issues will be on top of the agenda.
Diplomats expect only two substantive ministerial decisions
In addition to geopolitical issues, diplomats from the 57 OSCE participating states have been holding intense talks over the past few weeks in Vienna to negotiate up to 25 draft ministerial decisions.
The draft decisions address important security issues and are meant to guide the future work of the OSCE. During several past Ministerial Council meetings, consensus decisions in all three security dimensions could be adopted, including for example on the topics of combating trafficking in human beings, combating trafficking in small arms and light weapons, preventing corruption, combating violence against women, and enhancing the safety of journalists.
Yet, during past years, negotiations over consensus decisions, particularly in the human dimension, have become more difficult. But this year it seems this negative trend worsened, as only two substantive texts have a chance of being adopted, OSCE diplomats said in exclusive comments to SHR Monitor. The two potential decisions relate to the issue of combating climate change and to continuing the Transdniestrian settlement process.
Disputes between states have already led to numerous other substantive decisions—such as a declaration on the COVID-19 pandemic as well as a political declaration by all 57 states—being aborted.
The increasing difficulty to forge consensus among all 57 OSCE states has to do with the tense global geopolitical atmosphere. Disputes between Azerbaijan and Armenia over the ongoing Nagorno-Karabakh conflict were another obstacle to consensus on several texts, according to diplomats.
But it seems that also the Swedish Chair's own strong focus on promoting gender equality and the so-called "women, peace and security agenda" has led to clashes with states such as Russia, who are very well known to oppose this topic.
Gap in leadership
After Sweden, Poland will assume the OSCE Chairmanship next year, followed by North Macedonia in 2023.
But there is also no consensus on who will preside over the OSCE in 2024. Originally Estonia voiced its readiness to do so, but Russia and Belarus blocked consensus on the draft decision, OSCE diplomats told SHR Monitor. This means that there is currently a gap in the leadership of the Organization in the run-up to the 50th anniversary in 2025 that some states would like to see marked by an OSCE Summit of Heads of State or Government.
The OSCE Ministerial Council has already adopted via a so-called "silence procedure" a Finnish takeover of the OSCE Chair in 2025. The anniversary is a symbolic year for Finland since the OSCE Final Act, the Organization's founding document, was adopted in the Finnish capital in 1975.
The OSCE Ministerial Council takes place once a year in the country holding the OSCE Chairmanship. It is attended by the foreign ministers (or their representatives) of the 57 OSCE participating states as well as of the OSCE partner states. Due to the pandemic, last year's OSCE Ministerial Council meeting was held virtually under the Albanian Chair.