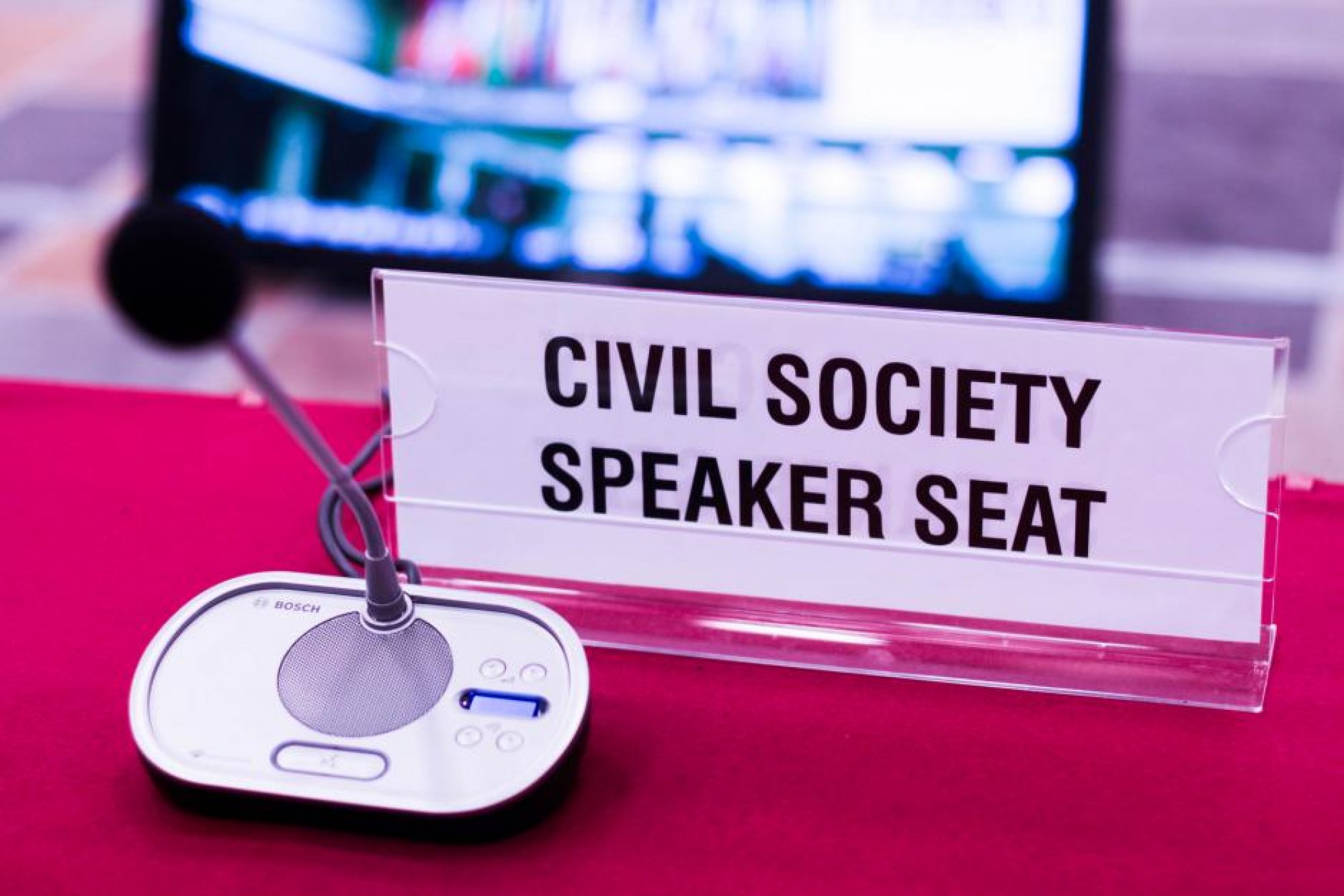 Killing it – not so softly? Human rights accountability and political will in the OSCE
Human rights are in danger – always, and everywhere, but now more than ever.
Violations are increasing as a growing number of governments worldwide are ignoring their obligations under international and national law to protect human rights. Activists, journalists and political opponents are being harassed and persecuted while legal redress, including compensation for victims, is often blocked. In addition, elections are being falsified and stolen. Accountability for government action—or inaction—is eroding.
Two factors are key for countering these trends: strong, effective and accountable institutions, both at the national and international level, and lively international human rights fora to ensure mutual accountability, and to address and discuss developments in the global space.
The OSCE, founded through the so-called Helsinki process some 50 years ago, which culminated in 1975 with the Helsinki Final Act, has made contributions in both of these areas. Its first institution, the Office for Democratic Institutions and Human Rights (ODIHR), has been commemorating its 30th anniversary this year. But is there much to celebrate?
A few governments seem intent on weakening the ODIHR, if not the entire OSCE. Because of their obstructionist tactics, the Organization has experienced serious slowdown. It took governments more than half a year to agree on a new Director for ODIHR, together with the other leadership functions in the Organization, including the Secretary-General. This year's annual budget—essentially unchanged from last year's—was agreed on seven months behind schedule, mainly because of disputes over ODIHR's activities. Furthermore, Russia's recent Duma elections could not be observed by the Organization due to unacceptable limitations imposed by the Russian authorities. Finally, there is no consensus concerning Europe's largest annual human rights conference: The Human Dimension Implementation Meeting (HDIM).
These are not promising prospects for this week's annual OSCE Ministerial Council Meeting in Stockholm, for which delegations in Vienna are trying to negotiate consensus decisions.
Europe's largest human rights conference is blocked
The most recent major blow was over the HDIM.
Every autumn in Warsaw the conference brings together representatives from the 57 OSCE States, along with representatives of institutions and field missions, experts, representatives of other international organizations, parliamentarians, ombudspersons, and, most importantly, civil society representatives from some 500 non-governmental organizations. There are more than 1,500 representatives altogether.
During the two weeks of the conference, the implementation of the large and detailed body of OSCE human rights commitments is examined, side-events cover specific situations and issues, and solutions are discussed and presented to governments and the OSCE's institutions. The record of the meeting, available on the internet, provides important input for further work at the local, national, and regional levels for governments, civil society, and the OSCE and its institutions and missions.
Last year, OSCE participating States decided to cancel the HDIM because of the pandemic. This year, however, the situation is different: the consensus principle among the 57 governments in the OSCE is increasingly being abused to block events not desired by a few, or even just one State. This year Russia blocked the conference in spite of efforts, over several months, to accommodate all concerns. The agenda differed marginally from the previous year.
Given the current global crises, meetings such as the HDIM are more important than ever. They provide a forum for debate and, most importantly, for engaging each other and finding solutions. This year only the much smaller three-day Human Dimension Seminar was held.
But what exactly motivates Russia's rigid position, quietly welcomed by some other governments also fearing more transparency and accountability?
Was it fear of being exposed as the conference was scheduled to coincide with the Duma elections? Is it a way to show the Swedish OSCE Chair the limits of their leadership? Is it part of a larger ploy to further weaken the world's largest regional security organization, already plagued by bureaucratic budget quarrels, stalemates over the need to modernize confidence-building measures in the politico-military field, and difficulties agreeing on other mandated meetings, such as the Annual Security Review Conference? Or is it another expression of the longstanding effort to reduce the autonomy of the Organization's human rights and democracy watchdog, the ODIHR?
Despite all of this, the Organization's work in managing conflicts, in developing new cooperation capacities for current security threats, and in turning governmental decisions into action in the 57 States, is still being praised. The daily work of the Special Monitoring Mission to Ukraine—despite being repeatedly obstructed on the ground—is a prime example of the OSCE's operational as well as political indispensability.
Limiting civil society representation by "shooting the messenger"? 
Another element for repeated disagreements constitutes the presence of civil society representatives.
Over the years, this has been increasingly contested in spite of being quite limited in the first place. The weekly meetings of the Permanent Council and the Forum for Security Cooperation in Vienna take place behind closed doors. Individual experts from civil society can only be invited to sub-committees or on special occasions. At the annual OSCE Ministerial Council meeting, NGOs can only have side-events, and even at the HDIMs, the presence of individual NGO representatives, and even the media, has been regularly contested by some governments.
So, contrary to other international organizations, such as the United Nations or the Council of Europe, who have opened up over the past years, the OSCE is becoming increasingly closed to even qualified public presence and engagement. It is also because of this that a year without the HDIM is impoverishing the one international organization which has benefitted, originally, from the untiring work of civil society, through numerous "Helsinki Committees", to inform the public, remind governments of their commitments, and help translate them into reality.
Exposure of deficits in human rights protection, rule of law, and democratic institutions is an essential element in addressing them successfully. While governments doing so in a peer review mode is important as an exercise of their joint responsibility to mutually agreed commitments, it is often labelled as "politicized" by those addressed. As a result, it is crucial that these processes involve civil society at all stages as well.
Furthermore, protecting human rights defenders is one of the many obligations under the OSCE commitments. However, in a growing number of countries they are being harassed and persecuted, labelled as "foreign agents", prosecuted for tax evasion or other bogus claims, threatened and even murdered. This increasingly also applies to journalists and opposition politicians.
ODIHR anniversary – are there reasons to celebrate? 
Overall, there are, in spite of these current difficulties, many reasons to appreciate the work of ODIHR. It has been developing steadily, despite all these obstructions, into a unique institution that provides key expertise to all governments and societies.
It has developed an impressive array of guidelines, handbooks and practical tools for implementing OSCE commitments. It has also developed and applied a professional election monitoring methodology globally praised as the "gold standard", and is monitoring also in other areas, such as trials and legislation. In addition, ODIHR has developed broad expertise for new challenges concerning hate crimes and human rights in the fight against terrorism. Overall, it has made strong contributions to the professionalization of many human rights, democracy and rule of law activities across a region of more than a billion people.
At last month's anniversary celebrations in Warsaw, ODIHR's most vibrant strengths were the current state of the human rights movement in the OSCE region and the highly professional work of the Organization's institutions and missions. There is no lack of engagement of civil society expertise or of support tools to effectively assist in realizing the protection of human rights. There were expressions of strong support from numerous government representatives. What is insufficient is the political will of some governments.
More political will is needed 
All governments must now come forward and live up to their commitments, share good practice (and learn from bad), engage with each other and civil society, and with those who have taken it upon themselves to defend the rights of others. It is essential to ensure accountability for government action, including within the Organization. They need to bring in youth representatives, bring different strands of the OSCE together, including the Parliamentary Assembly, and stop abusing the consensus principle over procedural matters, and finally return to leading by example.
The OSCE's institutions are ready, and so is their leadership.
Therefore, it is up to governments to turn the current crisis into an opportunity to renew the "Helsinki spirit" that was so instrumental in overcoming the Cold War. The upcoming Stockholm Ministerial Council meeting will present the next opportunity. However, the likelihood that it will be wasted is high. Forces violating fundamental OSCE commitments are strong and they must be exposed by autonomous institutions like the ODIHR. All democracies must support those institutions.
* Christian Strohal is a retired Austrian career diplomat and former Director of the OSCE Office for Democratic Institutions and Human Rights (ODIHR).