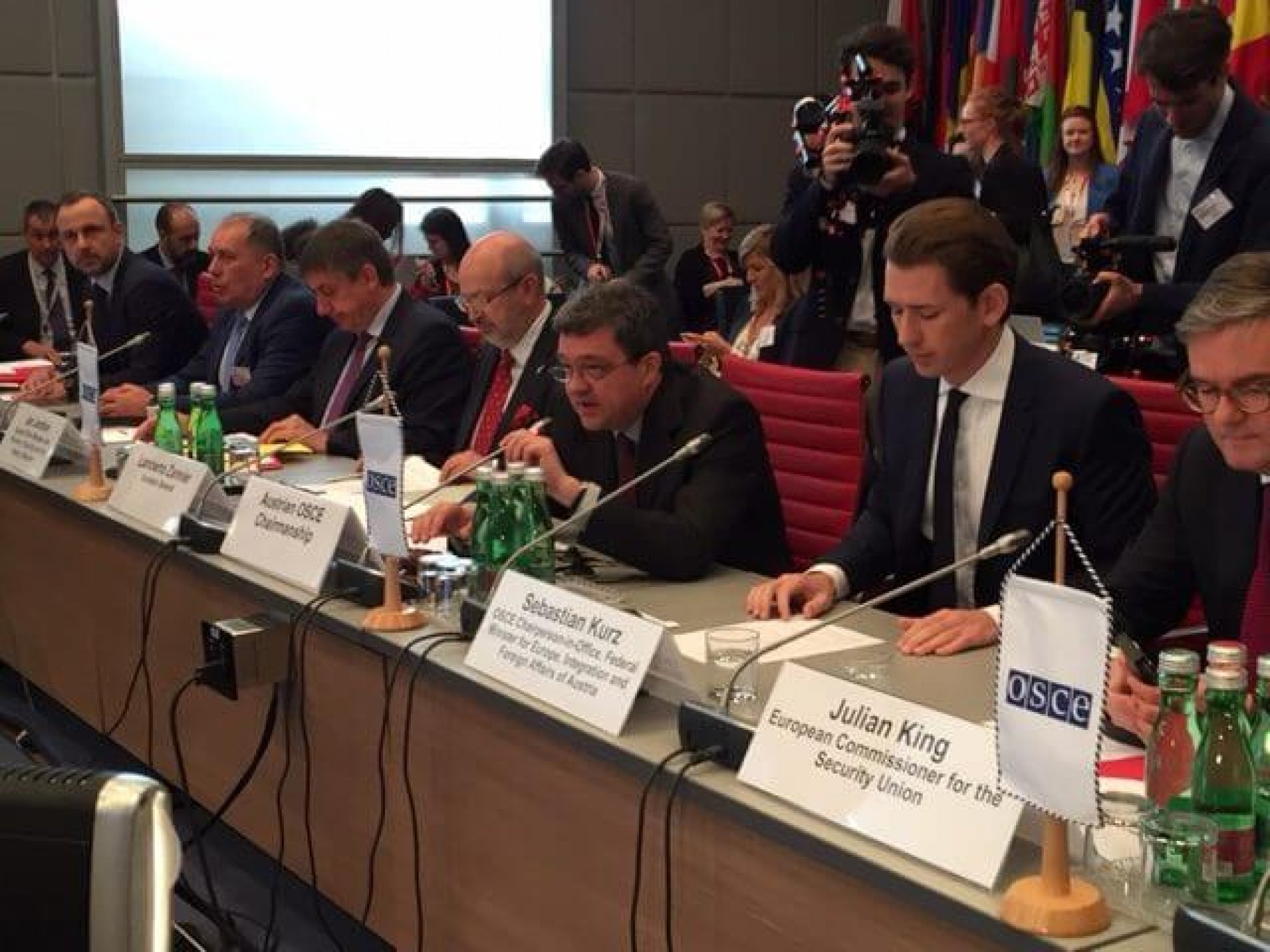 OSCE-wide Counter Terrorism Conference Overshadowed by Manchester Attack
On 23 May, the OSCE-wide counter-terrorism conference opened with a moment of silence for the victims of the terror attack in Manchester last night. OSCE Chairperson-in-Office, Austrian Foreign Minster Sebastian Kurz, stated that "this is another day with terrible news, another day that leads us to question how people can commit such barbaric attacks". Foreign Minister Kurz called on all OSCE participating States to stand together and to "fight terrorism with all means we have".
The OSCE-wide counter-terrorism conference brings together 550 experts from across the OSCE region and representatives from 35 international organizations to discuss the topic of 'violent extremism and radicalization that lead to terrorism'. The OSCE is already engaged in numerous activities in this area, especially at its field missions in the Balkans and in Central Asia.
Foreign Minister Kurz stressed that terrorism had become an increasing threat to our societies and that no country was immune to terrorism and radicalization. "This is why we need to have a discussion on this here in the OSCE," Foreign Minister Kurz underlined. "If we want to ensure security, the OSCE cannot only deal with traditional security challenges, but also has to look at the issue of terrorism and radicalization."
He explained that more than 10.000 people from the OSCE area had joined the so-called Islamic State to rape and to kill. Once they return, "they affect our security", he stated. Foreign Minister Kurz said that especially young people were prone to be misled by radicals and therefore prevention work should focus on them.
He also referred to the four workshops on the issue of youth and the prevention of violent extremism that were held under Austrian OSCE leadership in Western Europe, the Black Sea region, the Western Balkans and in Central Asia.
Foreign Minister Kurz underlined the importance of working with unions and associations to prevent radicalization, to stop the financing of terrorist organizations and to find a way how to deal with returning jihadist foreign fighters.
The European Commissioner for the Security Union, Julian King, briefed on the European Union's (EU) activities in the area of countering terrorism and radicalization, including on cyber security, fighting money laundering, enhancing external borders, countering misuse of credit cards and fighting radicalization. He stressed the need for the EU and the OSCE to work closely together, calling for a "concerted and sustained effort". He said that "fighting extremism means bringing different communities together and empowering them to marginalize those who advocate extremist ideas". He also strongly called for a better exchange of data among security authorities within EU member states.
Peter Neumann, Professor of Security Studies at the Department of War Studies at King's College London, who is also the Special Representative of the OSCE Chairperson-in-Office on Countering Radicalization and Violent Extremism, said that terrorists had the power to make people lose trust in members of their communities. He raised the example of France, a country with strong democratic institutions, where the terrorist attacks had led to a society "more polarized and fragile than ever". "If this can happen in France, what about weaker countries?", he questioned.
Speaking about how to counter the phenomenon of violent extremism and radicalization, he stated: "When we speak about countering terrorism, our efforts are by definition against something. The more I reflect on my work, the more I realize that just being against something is never going to be enough." Highlighting this point, he noted that it is not enough to be against terrorism or the Islamic State. Instead, efforts should also be focused on developing a positive vision of society and on creating a more comprehensive understanding of what society can offer.
Professor Neumann has travelled throughout the OSCE region to gather information on best practices on how to counter radicalization and terrorism. He will present his findings to the OSCE Ministerial Council in Vienna in December.
The conference opening was also addressed by Goodwill Ambassador of the UN for the Dignity of Survivors of Human Trafficking Nadia Murad, Jan Jambon, Deputy Prime-Minister and Minister of Interior of the Kingdom of Belgium, and Dragan Mektic, Minister of Security of Bosnia-Herzegovina.