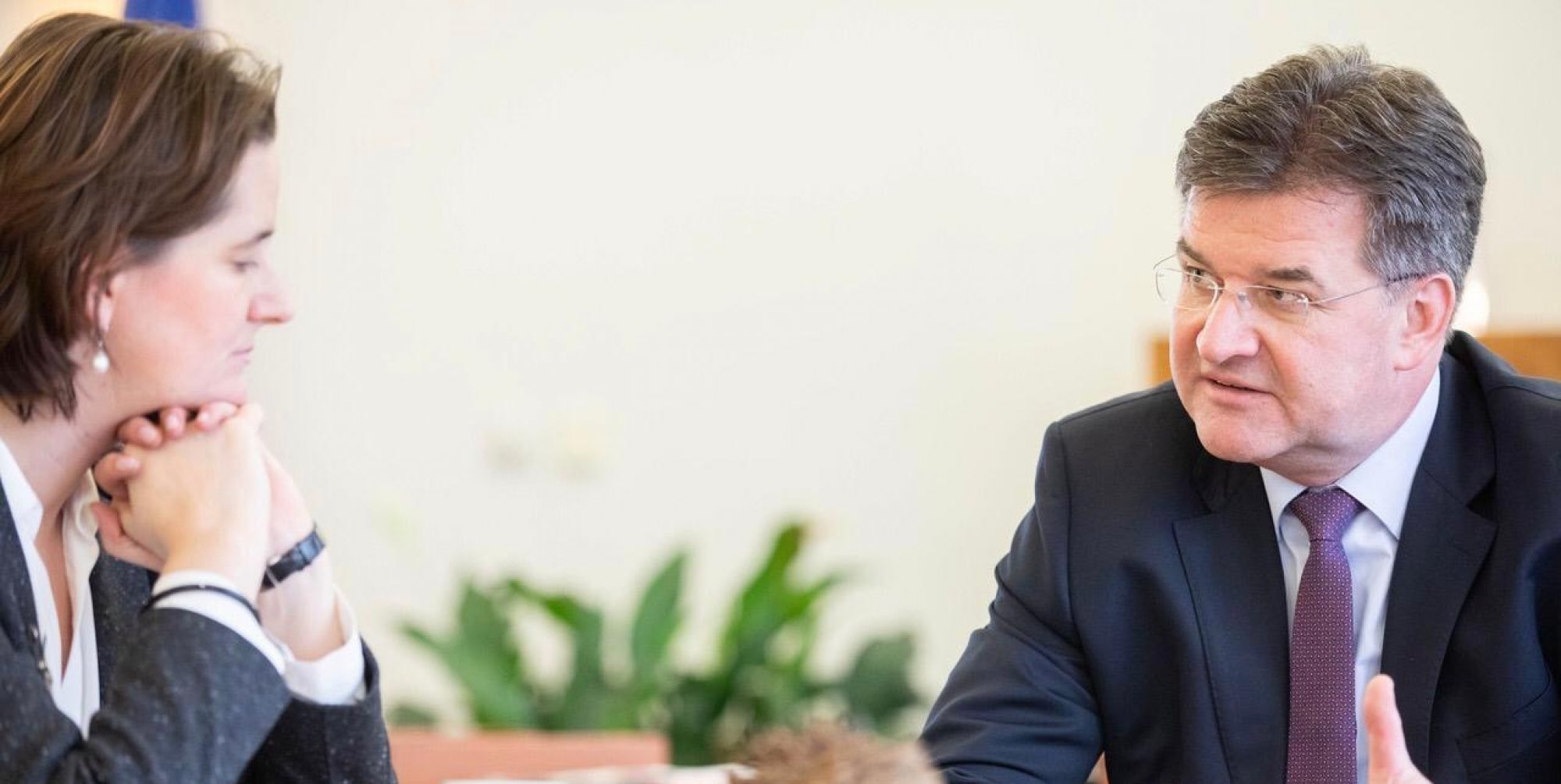 "OSCE currently not able to exploit its full potential"
Interviews
15 November 2019
In this interview, OSCE Chairperson-in-Office and Slovak Foreign Minister Miroslav Lajčák speaks about the current crisis of multilateralism, and calls for stronger political guidance and greater attention of Foreign Ministers to the work of the OSCE.
SHR Monitor: Foreign Minister Lajčák, given your extensive experience as diplomat, foreign minister, President of the United Nations General Assembly, and now as OSCE Chairperson-in-Office, what do you think is the OSCE's main added value? What can states do within the OSCE that they cannot do in other multilateral fora?
Lajčák: The official description of the OSCE says that it is the largest regional security organization in the sense of Chapter VIII of the United Nations. More concretely, the OSCE deals with very practical issues, such as the needs of people on the ground in conflict situations, for example in eastern Ukraine. Very often this concerns everyday needs, for example access to running water or to basic health care, and the possibility to cross the contact line.
The sixteen OSCE field operations play an important role in this too. The field missions are supporting the host states as partners in a variety of ways, for example by implementing projects in the areas of education, police training, or reform of the judiciary. In those countries, the OSCE is very well known and respected among the local population.
On the political level, the OSCE is unique too, because it comprises 57 participating States, thus covering a large geographical area. At the same time, it is important to remember that those states are not like-minded, unlike for example in the EU, where EU member states share the same understanding of the world.
I actually consider this an advantage, as the OSCE thus becomes an indispensable platform for dialogue among non-like-minded states, which sit around the same table on an equal footing.
Looking at the protracted conflicts in the OSCE area, and also at the more general situation of relations between Russia and the West, how high do you think is the risk for war?
I do not believe in the return of the doomsday. But there are many other reasons to be worried anyway.
I am particularly concerned about the erosion of the pillars on which the post-WWII world order was built. We are observing a crisis of multilateralism and a decline in the respect for international law. This leads to more tensions. In addition, it seems that we do not have a generally respected authority that helps us address this issue.
As a result, we also see very little progress on any of the conflicts, irrespective of whether they are hot or frozen. So, it is a fact that on European soil in the 21stcentury, there are still people dying as a result of military action.
Why do you think we are experiencing this erosion of multilateralism?
In my view, it is not a coincidence that the system of multilateralism, as we know it today, was built in the ashes of WWII. It was meant to prevent humankind from repeating the same kind of insanity. But today it seems that we are forgetting the lessons from the past. Instead, some are having doubts about the necessity of international organizations and of multilateralism.
I believe that we have to remember that those institutions were not just sent from heaven. We have built them in the course of the past centuries and now we are beginning to undermine them. In my view, this is a very negative trend and it is contributing to an overall destabilization.
Furthermore, it seems that there is more demand for populist politicians and less interest in responsible visionaries. Populists often offer shortcuts, but we all know that there are no easy answers to complicated and complex situations.
And how do you see this erosion of multilateralism manifest itself in the OSCE? I read many of your speeches and found frequent calls on OSCE participating States to engage more constructively on issues of substance, instead of focussing purely on procedural issues.
In the course of my career, I have come to know many international organizations in detail, and unfortunately, I have to say openly that the OSCE is currently not able to exploit its full potential.
The Organization has somehow become hostage to agreed language and procedural issues that all have to be agreed on by consensus, for example conference agendas. For me achieving consensus means that I might have to give in, or make a concession, in the interest of finding common ground. But unfortunately, way too often, the principle of consensus is used to block other states, even for reasons that have nothing to do with the topic that is under discussion.
My first conclusion is that if we manage to improve the general state of multilateralism, we will also improve the climate in the OSCE. My second conclusion is that we need stronger political guidance. I really wish to see greater attention to the work of the OSCE, particularly by Foreign Ministers. Their participation at OSCE events, especially at the OSCE Ministerial Council, is key.
This was confirmed at the informal OSCE ministerial gathering in the High Tatras mountains in Slovakia in July. Foreign Ministers listened to each other and refrained from just reading out prepared statements.
But even at the High Tatras gathering there could have been better attendance.
This trend unfortunately does not only concern the OSCE but a number of other international organizations. I always saw it as my primary responsibility as Foreign Minister to represent my country at meetings of international organizations. This also means that I would always choose to attend the OSCE Ministerial Council. Isn't it strange if Ministers don't have the time to do their primary job?
I would like to move on to the situation in eastern Ukraine, where the OSCE is a major actor. You have travelled there three times in the course of this year, and are planning a fourth trip. How do you assess the current situation on the ground, and how likely is a political solution?
Ukraine is our number one priority because of the fact that there is a military conflict ongoing and people are dying. I therefore paid my first visit as OSCE Chairperson-in-Office to Ukraine at the beginning of the year. Since then, I visited Ukraine twice again and I am planning to pay a fourth visit, as you said.
Of all international organizations, the OSCE plays the most important role in Ukraine. The OSCE Special Monitoring Mission to Ukraine provides information on the basis of which other international actors make their own judgements. And the Trilateral Contact Group is a primary instrument for dialogue.
Right now, there is a positive momentum and window of opportunity that we must not miss. Ukrainian President Volodymyr Zelensky took some important steps since taking office that I think prove that he is serious about trying to end the conflict.
There was an exchange of prisoners, and successful military disengagement from three areas, as well as important demining activities and the beginning of the reconstruction of the Stanitsya Luhanska bridge. Politically, all actors have also committed to the so-called Steinmeier Formula [that proposes a sequencing of events outlined in the Minsk Agreements].
All of this together creates positive political momentum and I therefore strongly believe that now is the time for the political leaders to step in.
Can we expect a Normandy Leaders meeting between Ukraine, Germany, France and Russia any time soon?
Right now, there are discussions going on behind the scenes about when to meet, but also about the conditions that need to be in place first. I do believe that a Normandy Four meeting on the level of heads of state would be very important because this could help to provide a strong political impetus to the continuation of this positive process. Anyone who is serious about ending the conflict in eastern Ukraine should provide support to the current political momentum.
Do you have hopes that there will be a political solution any time soon?
I will not speak about possible dates or timeframes, but what I really want to stress is that we should take advantage of the current window of opportunity.
You are beginning to reach the end of your OSCE Chairmanship. Next year, Albania will take over, but there is still no clarity who will chair the OSCE in 2021. Why is it so difficult to find states to chair the Organization, and what would you like to tell those who are considering a bid?
The OSCE Chairmanship actually requires a lot of work and money, and, most importantly, you cannot expect breakthroughs and grand results. Yet, there are at least two reasons why we applied for the Chairmanship.
The first one is that we strongly believe in multilateralism and wanted to prove that we actually mean this, not just by words but by action. The second reason is that the Chairmanship is a way even for small states to make a difference in international politics.
Are you confident that you will find someone to chair the OSCE in 2021?
We are working behind the scenes, and I am talking to several of my colleagues. I am appealing to their responsibility, and I hope that we will have a positive response by the Ministerial Council meeting in Bratislava on 5 and 6 December.
What concretely are you hoping to achieve at the Ministerial Council meeting in Bratislava, also looking at your priorities, for example security sector governance.
My first goal is to prove the raison d'être of the OSCE, which means that I want to bring as many Ministers to Bratislava as possible, and to engage them in a dialogue. Moreover, I also would like to see progress on the three priorities that we had set out at the beginning of the year, namely prevention of conflicts and mediation of existing conflicts, safer future, and strengthening multilateralism. Of course, I would also like to see the Ministerial Council adopt several decisions in the three dimensions, but here I want to see quality over quantity.