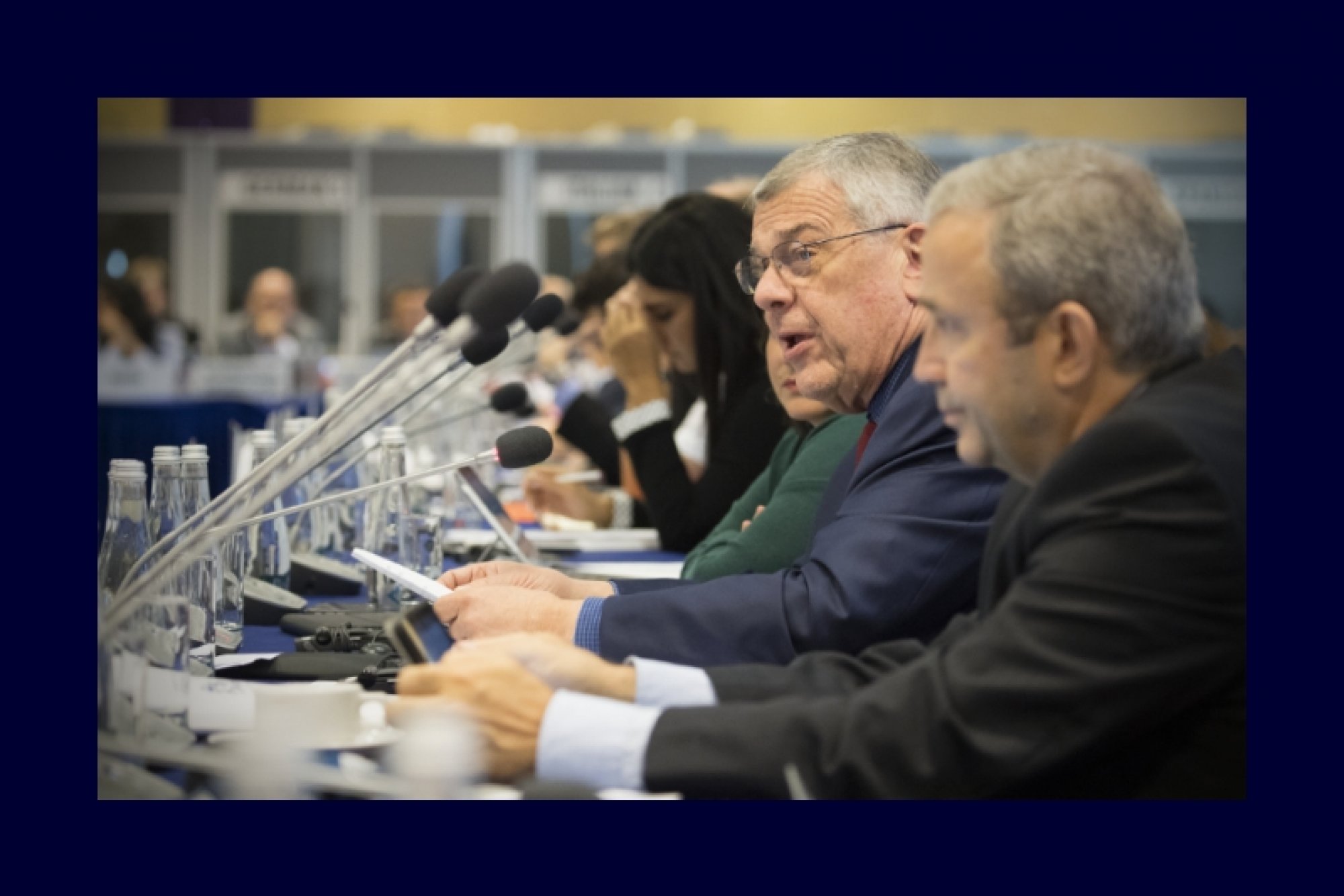 Interview with U.S. Head of Delegation Ambassador Michael Kozak on the 2017 OSCE Human Dimension Implementation Meeting
Interviews
13 September 2017
Between 11 and 22 September, Europe's largest regional human rights conference takes place in Warsaw, Poland. In this written interview, Ambassador Michael Kozak, who heads the U.S. delegation at the OSCE Human Dimension Implementation Meeting (HDIM), talks about the main issues of concern for the U.S. He also shares his views about how the U.S. reacts to criticism about its own human rights record.
SHR Monitor: The OSCE Human Dimension Implementation Meeting (HDIM) is Europe's largest regional conference addressing human rights-related issues of common concern. What will be the main topics of interest for the United States (U.S.) at the HDIM this year?
Ambassador Michael Kozak: The United States always looks forward to exchanging views on the implementation of shared human dimension commitments with other governments and civil society representatives. HDIM is a unique regional forum where NGOs and governments have seats at the table.  Civil society activists from across the OSCE region are essential to the quality and integrity of the HDIM discussions.
This year, our delegation will be spotlighting a number of issues and concerns:
First, the Russian Federation's aggression against Ukraine reflects a stark disregard for the Helsinki principles.  The conflict that Russia ignited and continues to fuel in the Donbas is far from frozen.  At the HDIM, together with our partners and allies, the United States will be vocal in its support for Ukraine's efforts to build a modern, democratic, European state.  We will also continue to advocate for the human rights of individuals in the Donbas and Crimea, who – under the control of Russia and its proxies – are subjected to serious abuses.  Russian authorities target Crimean Tatars, ethnic Ukrainians and others who oppose the occupation.  We reject as illegitimate Russia's occupation of Crimea, which is part of Ukraine.
Second, Russia's aggression toward its neighbors is accompanied by its repression at home.  Opposition figures and independent journalists who expose corruption and abuses of power are physically attacked with impunity.  Civil society groups advocating for human rights, free and fair elections processes and other reforms are labelled as "foreign agents" without any pretense of proof that they are representing or acting for foreign governments.  Foreign organizations that work openly with Russians seeking to advance democratic development are designated as "undesirable" and driven from the country.
Third, Russia is not alone in imposing serious restrictions on civil society and foreign media.  Independent voices are under pressure in many participating States across the OSCE region.  At the HDIM, we look forward to hearing from civil society participants about how restrictive laws impact their work, the very real challenges they face, and what the OSCE, participating States, and civil society can do about the shrinking space for civil society and media pluralism.  In an effort to encourage closer ties between civil society representatives and OSCE institutions, the United States and a group of like-minded OSCE States will host a "Democracy Defender Interactive Workshop" focused on developing concrete recommendations on programs, activities, and initiatives the OSCE can undertake to reduce barriers to civil society participation.
A fourth important topic will be combating hate and hate crimes in the OSCE region.  There can be no place among us for anti-Semitism, anti-Muslim, anti-Christian, or anti-Roma discrimination or racism.  There can be no room for hate crimes against anyone, including LGBTI individuals, migrants, and persons with disabilities.  Together with likeminded countries, we are co-sponsoring an event on combating anti-Semitism — including through educational initiatives that help people prevent, detect, and respond to intolerance.
Finally, we will explore how governments and civil society can work together to fight terrorism by addressing what drives it.  As we do this, we will emphasize that when some governments crack down on peaceful human rights defenders, political opponents, journalists, and peaceful members of religious or ethnic minorities in the name of counterterrorism, they undermine the security they purport to protect.
SHR Monitor: Is the U.S. also criticized at the HDIM for not fully complying with all OSCE human dimension commitments? If yes, what are the specific areas of concern and how does the U.S. react to such criticism?
Kozak: My delegation welcomes honest discussion of the issues. All participating States, the United States included, share the same commitments. My colleagues and I on the U.S. delegation are proud to represent one of the most diverse nations on Earth and one of the world's longest continuing constitutional democracies.  Making our country a more perfect union has been a work in progress for more than two hundred years.  We hold rigorous, competitive elections that result in peaceful transitions of power.  Our executive, legislative and judicial branches of government are co-equal and not shy about asserting their independence.  Our free, pluralistic media and robust civil society shine an unsparing light — and spur an unceasing debate — on the challenges we face at home and abroad.  We think that's a sign of strength.
SHR Monitor: The first day of the HDIM is dedicated to the topic of freedom of the media. The newly appointed OSCE Representative on Freedom of the Media, Harlem Désir, urged the U.S. Administration in a statement on 28 August to refrain from attacking the media. In the statement, Mr. Désir referred to remarks by the US President at a rally in Phoenix, Arizona, on 22 August. He stressed that the remarks are particularly worrying, given the United States' long-standing position as one of the global leaders in defending free speech and press freedom. How is such criticism dealt with in the U.S.?
Kozak: Well, as I said, the media environment in the United States is among the most vibrant and diverse in the world.  We have a strong track record of advocating for and protecting freedom of expression, including for the media. These are core values that are enshrined in our Constitution.
SHR Monitor: Do efforts by the U.S. and the other OSCE participating States to conduct human rights dialogues and civil society outreach activities have a concrete impact on the human rights situation in the OSCE area?
Kozak: I think it's important to recognize that in many countries human rights defenders don't have an opportunity to openly express their concerns.  For them, the HDIM is a unique space where they can do so and suggest remedies in the presence of the international community.  It's a conversation that wouldn't take place otherwise.
So yes, I do think our diplomatic engagement on human rights has a real impact.  In the course of my career, I've seen activists released because of international pressure. I've seen the perpetrators of human rights abuses held to account because of the concerted efforts of human rights organizations, NGOs, and governments working together.
Sometimes progress doesn't come as quickly as we want.  But each statement, each meeting, each conversation makes a difference – absolutely.  And the United States continues to stand with those who work in Baku and Ashgabat, Moscow and Dushanbe, Ankara and Astana, Budapest and Bishkek, Minsk and Tashkent to defend human dignity, universal human rights and democratic government.  Human rights defenders are the heartbeat of the Helsinki process.
SHR Monitor: The U.S. has traditionally not only attached great importance to the human dimension of the OSCE, but also has a large Mission to the OSCE in Vienna. In addition, the U.S. plays an important role in the decision-making process of the OSCE. Is it realistic that the U.S. will appoint a new US Ambassador to the OSCE in Vienna before the upcoming OSCE Ministerial Council in Vienna on 7 and 8 December?
Kozak: Protecting and defending human rights remains an important bipartisan effort for the United States.  You can expect that the United States will continue to champion the principles of the Helsinki Final Act and the OSCE's Human Dimension. We will also continue to work to defend the OSCE from deliberate efforts by some States to weaken its institutions.
With respect to the appointment of a new Ambassador to the OSCE, the President, of course, will be the one to nominate a new Ambassador.  But even as we await the appointment of a new Ambassador, we have full confidence in our Chargé d'Affaires, Harry Kamian, and his team, who are intensively engaged here at HDIM.
Questions prepared by Stephanie Liechtenstein, Web Editor-in-Chief, SHR Monitor.