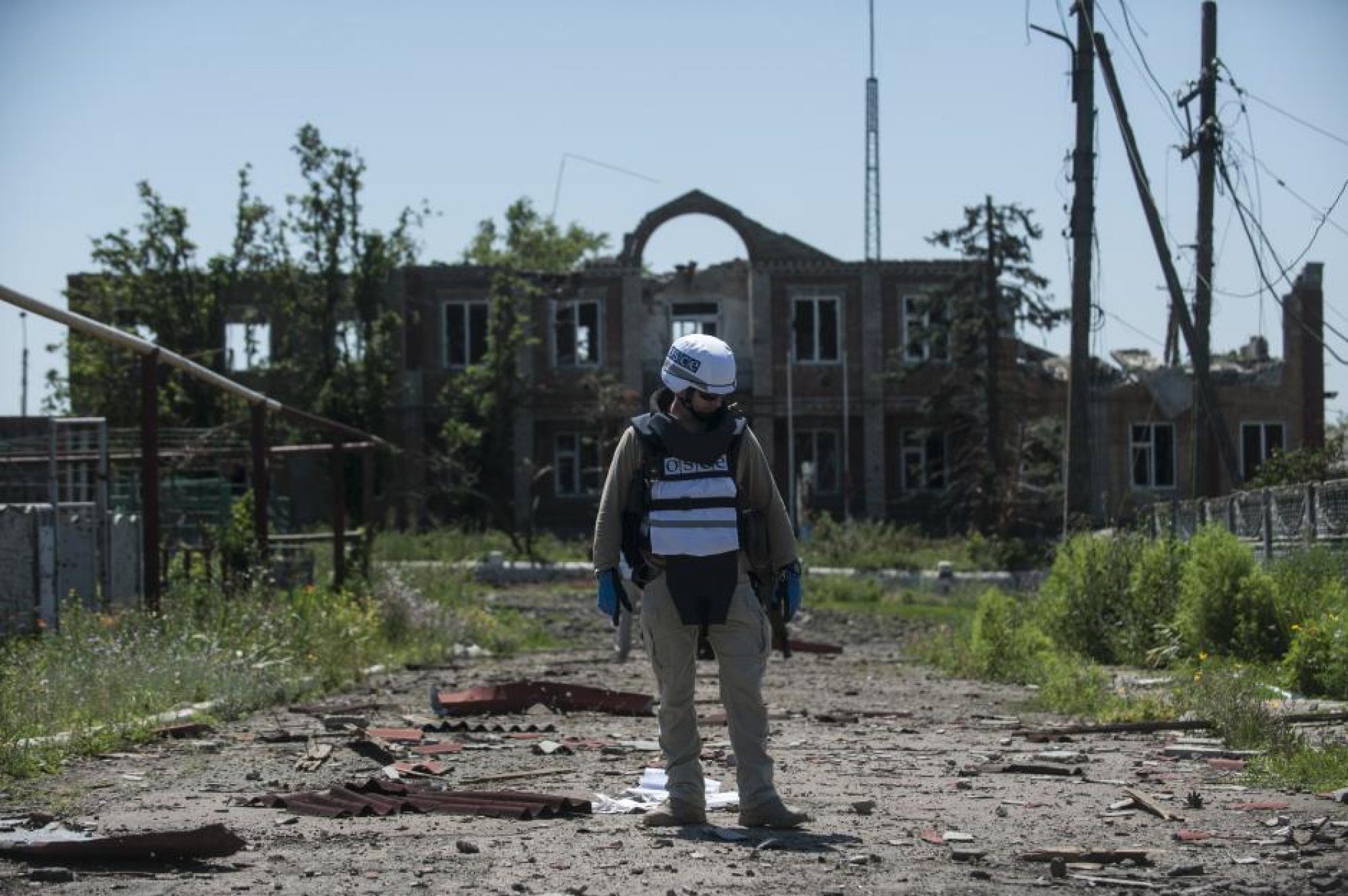 Four national OSCE mission members detained in eastern Ukraine
Four OSCE national staff members have been arrested in Donetsk and in Luhansk in eastern Ukraine by Russian forces, the SHR Monitor has learned from sources familiar with the matter. The charges brought against them include alleged treason, spying and illegal activities.
In addition, on April 9, Donetsk separatist leader Denis Pushilin declared the OSCE Special Monitoring Mission (SMM) to be illegal and said that OSCE national staff would have to leave the region by April 30. On April 14, Luhansk separatist leader Leonid Pasechnik said that the OSCE mission would be outlawed after April 30.
"The OSCE is extremely concerned that a number of national mission members have been deprived of their liberty in Donetsk and Luhansk. The OSCE is using all available channels to facilitate the release of its staff," the OSCE press office said today in a statement. "Given the sensitivities, we are unable to share additional details at this stage."
According to the OSCE regulations, the OSCE Secretary General has a "duty of care" for its staff that includes providing for their safety and security. OSCE international and national staff benefit from various privileges and immunities while carrying out their functions.
During a meeting of the OSCE Permanent Council on March 31, Russia refused to join a consensus to extend the mandate of the OSCE Special Monitoring Mission (SMM) to Ukraine. Russia insisted that the mission must cease to exist in the absence of a consensus to prolong the mandate, and said that closure proceedings should be initiated promptly.
On April 12, the Russian Foreign Ministry also demanded that the OSCE account for what its mission in Donbas has been doing since 2014. "This organization must make corresponding statements now to explain what it is doing in the region and in what format," TASS Russian news agency quoted Russian Foreign Ministry spokeswoman Maria Zakharova as saying.
The SMM mandate expired on March 31 at midnight. All monitoring activities have been paused since March 7, when the evacuation of international mission members from Ukraine was completed in the wake of the Russian invasion of Ukraine.
OSCE national staff contracts have been prolonged until February 2023, pending ongoing negotiations led by the Polish OSCE Chair over a potential future OSCE mission in the country. Most international staff contracts have also been prolonged.
National mission members are currently carrying out very limited administrative functions in relation to the SMM's premises and assets throughout Ukraine, including in the east of the country. The OSCE still has 360 national staff members located inside Ukraine.
"The SMM continues to assist remaining national staff in efforts to re-locate to safer areas. Contacts with national mission members continue on a daily basis, including in order to ascertain their whereabouts and assist them, to the extent possible, should they decide to re-locate," the OSCE press office said today.
"Where available, SMM national mission members have been using SMM vehicles to move to safer areas, or they have been supported in efforts to join convoys where humanitarian corridors have been possible. The SMM continues to explore all possible options to assist its national mission members across Ukraine, including in Donetsk and Luhansk, during these challenging times," the OSCE statement read.
At the special OSCE Permanent Council meeting on Friday, OSCE participating States expressed concern about the safety of OSCE national mission members in Ukraine.
UK Deputy Ambassador Deirdre Brown said on Thursday that there are "alarming reports that Russia's proxies in Donbas are threatening Mission staff, equipment and premises and that Russian forces have taken SMM staff members captive." Brown said that the UK condemns "these threats to this Mission and its dedicated personnel in the strongest possible terms." She called for the release of staff members "as well as all Ukrainians detained by Russia."
Yevhenii Tsymbaliuk, Ukraine's Ambassador to the OSCE, expressed concern about the "growing number of cases of illegal detention and persecution of the SMM national personnel who are currently residing in areas occupied by the Russian Federation," adding that this "also undermines the concept of the OSCE field mission in general."
The OSCE SMM was first deployed on March 21, 2014, following a request by Ukraine and a consensus decision by all 57 OSCE participating States, including Russia. It was composed of unarmed civilian monitors who had been seconded by OSCE participating States, as well as national mission members.