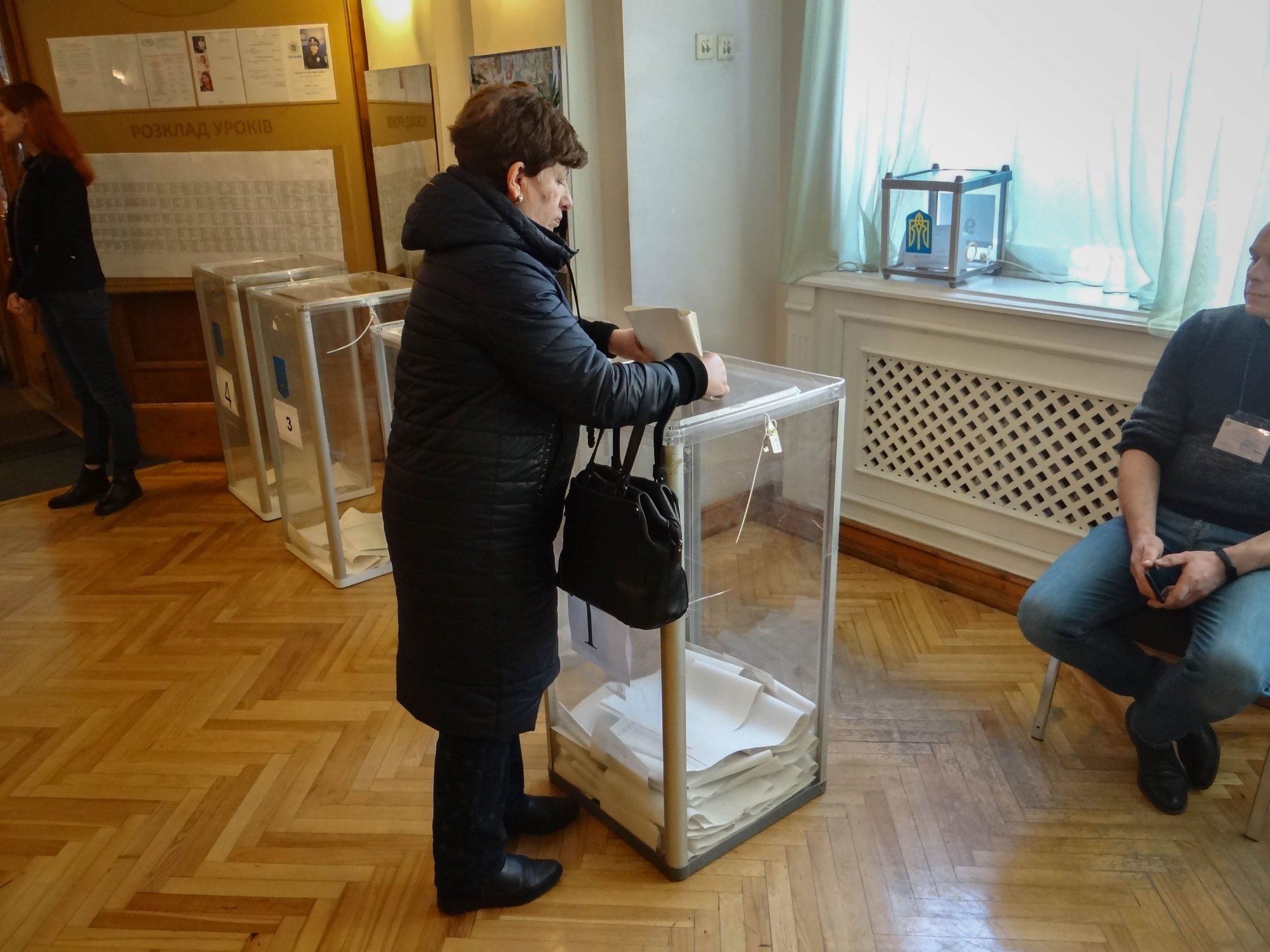 Comedian Zelenskiy wins Ukrainian Presidency
Nikolaus von Twickel writes that the political newcomer faces challenges such as tackling corruption and breaking the deadlock in eastern Ukraine.
Volodymyr Zelenskiy is no ordinary politician and Sunday's second-round presidential vote was no ordinary election. Ukraine will have a showman-president who beat the incumbent Petro Poroshenko in a dramatic and at times surreal race.
But the path that led to Zelenskiy's historic 73-percent win was actually not so extraordinary. During Poroshenko's five-year presidency, Ukrainians became so disenchanted with his inability to fulfil the hopes of the Euromaidan revolution that they voted for an outsider who promised to mark a clear break from the political establishment.
To be sure, the election was competitive (39 candidates took part in the first round on March 31) and fundamental freedoms were respected (though the campaign lacked a genuine discussion of issues), according to the OSCE/ODIHR international election observation mission's statement. Poroshenko's clear admission of defeat is another sign that democratic principles are taking root in Ukraine. Zelenskiy performed strongly throughout the country, winning all of Ukraine's regions except western Lviv, where Poroshenko got 62.8 per cent.
Zelenskiy's main qualification is that he played a school teacher in the TV series "Servant of the People" who unexpectedly becomes president after having complained about corruption in Ukraine. As President, the honest but inexperienced Vasyl Holoborodko fights for a clean government and against rent-seeking oligarchs.
Zelenskiy's win is all the more remarkable because voters decided to overlook all signs that the actor really is not Holoborodko: While he clearly has no experience in politics there is no proof that he is honest and there is no evidence that he will follow the script of "Servant of the People". Most importantly, there is evidence that he is backed by Ihor Kolomoisky, the Ukrainian arch-oligarch who has lived in exile in Switzerland and Israel since falling out with Poroshenko after 2014.
Kolomoisky owns and controls the 1+1 Television Channel that airs Zelenskiy's series. According to a recent Reuters investigation he has numerous business links to Zelenskiy. When a Kiev court ruled on April 19 that the nationalization of Kolomoisky's Privat Bank was illegal, commentators speculated that the judges had anticipated Poroshenko's defeat and Zelenskiy's win.
The Bank's 2016 nationalization was at the centre of Kolomoisky's spat with President Poroshenko. The businessman is suspected of using Privat Bank to pilfer at least 5.5 billion dollars from Ukraine, 40 percent of the country's monetary base. He denies the accusations and Zelenskiy has said that Kolomoisky is his business partner but not his boss.
Zelenskiy has suggested that anyone who breaks the law should be held accountable, including Kolomoisky. As President, Zelenskiy can quickly prove his intentions by removing Poroshenko-era obstruction for institutions like the National Anti-Corruption Bureau and by appointing professionals rather than loyalists to head the Prosecutor-General's Office and the SBU Security Service.
He will face a harder task in dealing with the Verkhovna Rada, Ukraine's powerful parliament, which past Presidents tried to tame by bribing MPs rather than building coalitions. The first difficult phase of "cohabitation" may ease after the parliamentary election, set for October: A recent survey showed that 25.9 per cent of voters are ready to back Zelenskiy's party, aptly named after his series "Servant of the people" – more than to any other political party, despite the fact that it only exists on paper.
But his most daunting task will be dealing with Russia, which continues to occupy Crimea and to fuel the ongoing war in eastern Ukraine's Donbass region. While Crimea is probably off the negotiation table for the time being, compromise over Donbass won't be easier than it was for Poroshenko.
After initially signaling that it expected conciliatory moves from Kiev, Moscow massively raised the stakes on Wednesday by announcing that it will hand out Russian passports to the inhabitants of the "People's Republics" which strongly sounds like the Kremlin's "passportization" policies in Abkhazia and South Ossetia before the 2008 war with Georgia.
Moscow made it clear that this move is aimed at forcing Ukraine to make concessions. "If Kiev wants to restore constitutional order in Donetsk and Luhansk, it will have to demonstrate respect for civil rights for the local population," Alexei Chesnakov, a Moscow political consultant and close confidant of the Kremlin's Vladislav Surkov, wrote on his Telegram channel. He added ominously that Russia was "ready to use more political tools to protect the people of Donbass".
While it is up to Poroshenko to react as long as Zelenskiy has not been inaugurated, it is clear that it would amount to political suicide if Zelenskiy began his presidency with major concessions to the Kremlin.
Zelenskiy has so far only suggested to hold direct talks with Russia and to adding the United States and Britain to the largely dormant Normandy Format talks between Russia and Ukraine with France and Germany. However, it is hard to see how talks with Russia can be more productive without OSCE mediation and the presence of Donetsk and Luhansk separatist representatives (meeting a key Russian demand), which already is the Trilateral Contact Group format. Previous efforts under Poroshenko to widen the Normandy Format by adding the US have not been successful and it is not clear why this should change now.
Another interesting line of thought was opened on Monday when Chesnakov's Kremlin-linked think tank published a paper about the future scenarios of Russian-Ukrainian relations. The short analysis by the Moscow-based Centre for Current Policy begins by stating that the war in Donbass is a proxy war in which Russia is a participant – a major departure from the official narrative that it is a civil war where Russia is just a mediator.
According to this, an escalation and a compromise are both unlikely, and the most realistic scenario is that the status quo continues without changes because changing each side's position would be perceived as a weakness and invite destabilization. But there might also be a "Georgian" scenario in which Russian-Ukrainian relations gradually warm as both sides could focus on implementing the ceasefire.
But the analysis also lists a number of "markers" which Zelenskiy would have to fulfill, which many in Kiev might find unacceptable. Among them is direct dialogue with separatist leaders, something Ukraine has adamantly refused in the past by saying either that they represent terrorist organizations or that they are Russian puppets. A main qualifier in this Kremlin wish list is that Zelenskiy must possess sufficient powers to implement any policies.
On this last point, Moscow's and the West's interests coincide – albeit for different reasons. While Moscow just wants implementation capability, a weak Zelenskiy presidency with a strong and opaque oligarch working behind the scenes is definitely not the desired outcome for those who want to foster sustainable democracy in Ukraine.
*Nikolaus von Twickel is a Berlin-based freelance journalist and analyst for conflicts related to Russia. He has lived and worked in Moscow between 2007 and 2014 and served as a media liaison officer for the OSCE Special Monitoring Mission in Donetsk in 2015 and 2016.