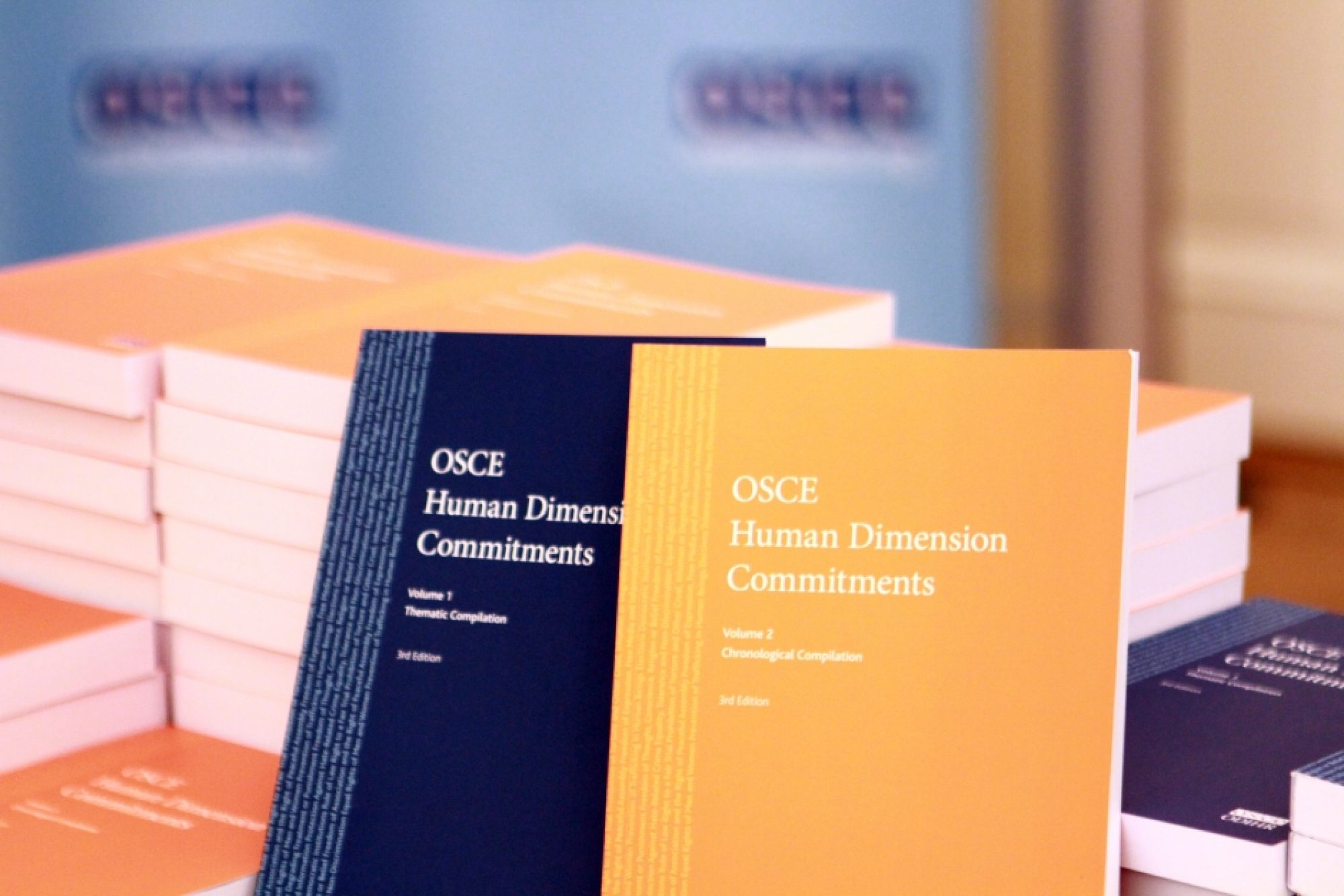 Strong Plea to Implement OSCE Commitments on Freedoms of Assembly and Association
The Supplementary Human Dimension Meeting (SHDM) on Freedoms of Peaceful Assembly and Association, with Emphasis on Freedom of Association took place in Vienna on 16 and 17 April. It was organized by the Serbian OSCE Chairmanship and the OSCE Office for Democratic Institutions and Human Rights (ODIHR). The meeting was part of a series of OSCE human dimension meetings that take place every year throughout the OSCE region and that culminate in the annual Human Dimension Implementation Meeting, Europe's largest human rights conference, taking place in Warsaw in autumn.
The SHDMs provide an opportunity for representatives of Non-Governmental Organizations (NGOs) to participate on an equal footing with government representatives. Except for the opening and the closing sessions, seating arrangements are informal. NGO representatives have the right to speak when given the floor by the Chairperson and government representatives have a right of reply. In this atmosphere, debates and exchanges become more relevant and genuine, even if they do get heated at times. This stands in sharp contrast to many other OSCE conferences and meetings which are usually dominated by formal diplomatic exchanges.
Listening to the debates of the working sessions, one did get the impression of a unique forum for dialogue. For NGOs, especially from states where civil society is under pressure, the meeting served as an opportunity to make their voices heard. For government representatives, it was an opportunity to gain a better understanding of the demands of civil society while at the same time having the opportunity to reply to NGO statements on the spot. Yet, the exchanges between NGO and government representatives also led to what some participants called "shaming and blaming". A number of participants therefore suggested to focus on concrete recommendations instead.
What was striking at this SHDM was what one OSCE Ambassador called the "increasing participation of proxy NGOs that restate their government's position". Indeed, some NGO representatives, especially from Azerbaijan, made strong statements in support of their government's policies with regard to civil society and the freedoms of peaceful assembly and association. This was viewed with suspicion by some participants. In this context, one participant stressed that "authoritarian governments may fear the voice of NGOs; real democracies do not."
In terms of the substance of the first day of the meeting, many participants called on states to implement their OSCE commitments, especially those contained in the 1990 OSCE Copenhagen Document. In this landmark document, OSCE participating States agreed to "ensure that individuals are permitted to exercise the right to association, including the right to form, join and participate effectively in non-governmental organizations which seek the promotion and protection of human rights and fundamental freedoms, including trade unions and human rights monitoring groups." They also committed that "everyone will have the right of peaceful assembly and demonstration. Any restrictions which may be placed on the exercise of these rights will be prescribed by law and consistent with international standards." While all OSCE participating States have adopted this document by consensus in 1990, the implementation of the commitments remains a key issue.
Concretely, the case of Rasul Jafarov, a free expression and free media advocate and human rights defender in Azerbaijan, was raised several times. NGO and government representatives (especially the United States and the EU) alike expressed deep concern about Mr. Jafarov's sentencing. Mr. Jafarov was sentenced to six and a half years in a penal colony on 16 April on questionable charges, the day that the SHDM opened in Vienna. Azerbaijan used its right of reply and stated that the sentencing was based on an investigation and was in line with the criminal code of Azerbaijan.
Another topic that was brought up several times by NGO and government representatives alike was the issue of the Russian law on 'foreign agents', which requires NGOs that receive foreign funding to register with Russian authorities; otherwise fines are imposed. Many western governments and NGOs view the labelling of NGOs as foreign agents negatively. Russia, in its right of reply stated that the legislation was primarily focused on financial transparency of the work of NGOs.
Another topic that was discussed was related to the conditions under which restrictions on peaceful assembly and association can be put in place. In this context, the EU stressed that "these freedoms [the freedoms of peaceful assembly and association] are rights not privileges, and restrictions should be the exception rather than the rule." Many participants suggested that states should consult ODIHR experts for legal advice on this question and should invite ODIHR experts to observe peaceful assemblies.
The excessive use of force by police in the context of peaceful assemblies was also discussed. One NGO representative suggested that police should involve more frequently civil society experts in the planning of demonstrations and bigger public events and underlined the need for police to remain absolutely impartial. In this context, many governments 'east of Vienna' accused the United States of applying double standards. They brought up recent events in Ferguson and the response of the police to the protests following the shooting of Michael Brown on 9 August 2014. Also more recent events were raised, such as the shooting of a black person by a police officer in South Carolina in April 2015. The United States promised not to overlook its own record and also stressed in its opening statement at the SHDM that "[w]e in the United States know well that in our own nation there is still work to be done to promote and protect the freedoms of peaceful assembly and association."
Furthermore, some participants brought up the situation of freedom of assembly and association on the Crimean Peninsula, following its illegal annexation by Russia in March 2014. Concern was expressed that Russian laws limiting the rights to freedom of assembly and association had been extended to Crimea, leading to a crackdown especially on pro-Ukrainian NGOs as well as Crimean Tartar organizations. Russia used its right of reply and stated that Russia had clear legislation in place and that citizens of Crimea enjoyed the same rights as all other Russian citizens.
In terms of concrete recommendations, the EU suggested to make use the ODIHR/Venice Commission guidelines on the freedom of peaceful assembly, freedom of association and the ODIHR guidelines on the Protection of Human Rights Defenders. The EU also recommended to allow organizations "to seek, receive and administer financial support from domestic, foreign and international entities without undue restrictions."
It is hoped that the consolidated recommendations of the SHDM (that will be issued in due course) will serve as a basis for a draft Ministerial Council (MC) decision on freedoms of peaceful assembly and association, to be adopted at the upcoming MC meeting in Belgrade. This would be of particular importance, especially in light of the fact that at the 2014 Basel MC meeting consensus on such a draft decision could not be reached, despite the fact that the document was supported by over 40 states.