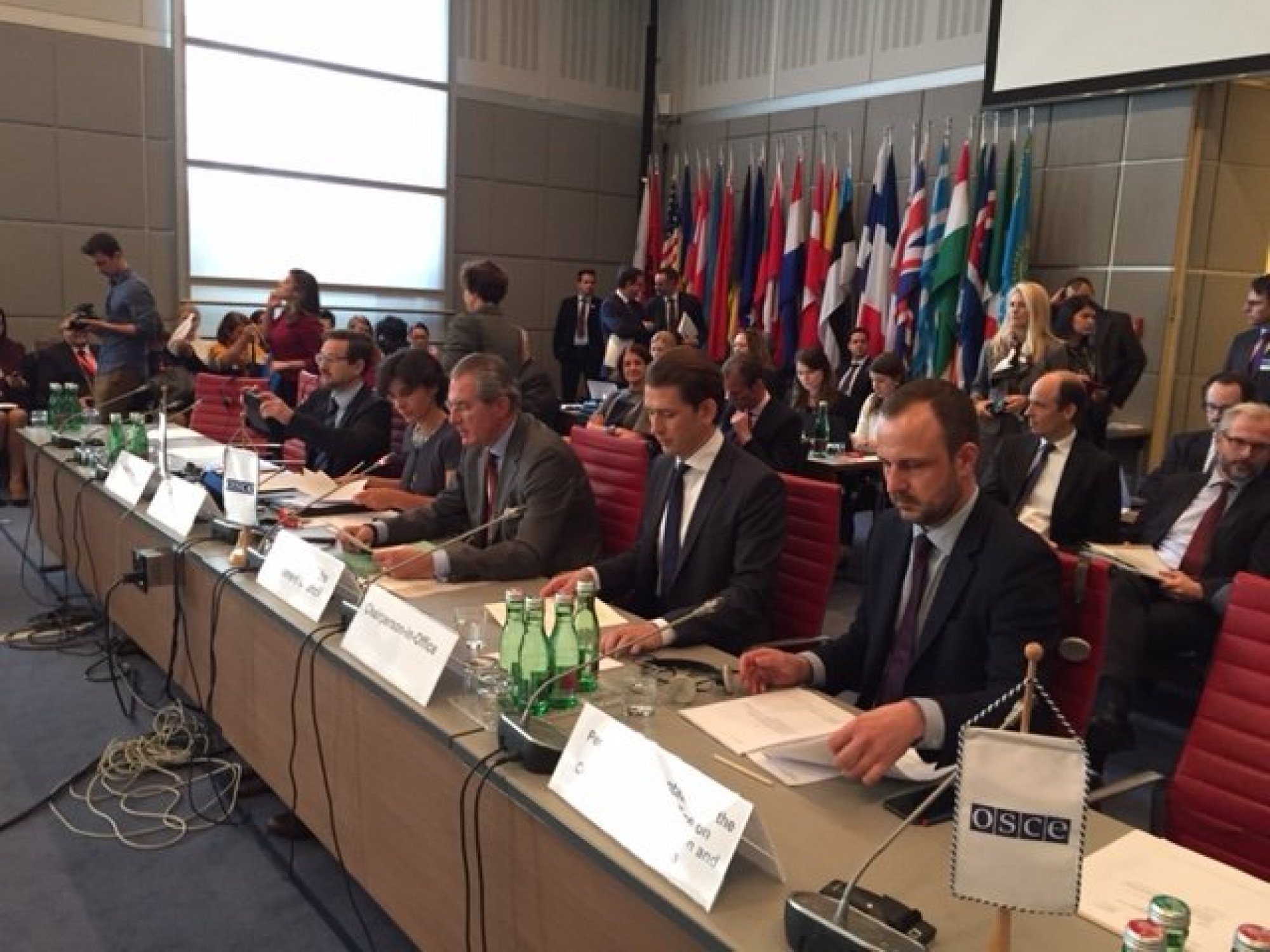 Strengthening the OSCE's role in countering violent extremism and radicalization
OSCE Chairperson-in-Office, Austrian Foreign Minister Sebastian Kurz, and Special Representative Professor Peter Neumann presented the final report on "Countering Violent Extremism and Radicalization that Lead to Terrorism" at a special meeting of the Permanent Council in Vienna on 29 September.
Countering violent extremism and radicalization in the OSCE area is one of the top priorities of the Austrian 2017 OSCE Chairmanship, building on previous OSCE decisions and declarations on this topic, adopted since 2001. Professor Peter Neumann from King's College London was appointed Special Representative for this issue by Foreign Minister Kurz at the beginning of the year.
In this capacity, Professor Neumann made official visits to 15 OSCE participating States and six OSCE field operations, and held meetings with officials at the OSCE Secretariat in Vienna, the Office for Democratic Institutions and Human Rights and the High Commissioner on National Minorities.
The result of Neumann's consultations and visits are summarised in his final report, which aims to serve as a basis for a possible Ministerial decision on combating violent extremism and radicalization in the OSCE area, that could be adopted at the Ministerial Council meeting in Vienna on 7 and 8 December.
Before addressing the special meeting of the Permanent Council, Foreign Minister Kurz and Professor Neumann gave a joint press conference in order to highlight the main ideas and recommendations contained in the report and to explain its relevance.
At the press conference, Foreign Minister Kurz underlined the importance to "counter extremism, radicalization and terrorism", which pose an "increasing threat to security and stability in Europe and the entire OSCE area". "During the year 2016, over 1.000 innocent people died as a cause of terrorist attacks in the OSCE area," Kurz explained. He added that "10.000 foreign terrorist fighters from the OSCE area have travelled to Syria and Iraq in order to rape, murder, and extinguish religious groups and minorities". Kurz highlighted that these foreign terrorist fighters not only caused a lot of suffering in Iraq and Syria, but also posed a security threat to societies upon their return to countries in the OSCE area.
Due to the increased security threat, it was therefore necessary for the international community not only to get involved militarily against the Islamic State (IS) in Iraq and Syria. It was equally important for countries to start focusing on domestic prevention to minimize the risk of citizens joining the Islamic State, according to Kurz. Activities could for example include workshops with youth or preventive work in schools and prisons, Kurz said. The overall goal should be to "shut down radicalization networks in the OSCE area".
Professor Neumann elaborated further on this, stressing that "the threat of terrorism will continue to keep the international community busy for many years". Neumann said that while the so-called Islamic State was about to collapse in Iraq and Syria, having lost more than half of its original territory, the overall problem remained in place. "The end of IS in Syria and Iraq does not mean the end of terrorism," Neumann stressed. "It merely means the end of the territorial project of the IS," he added. Neumann warned that in the short to medium-term, an increased amount of terrorist attacks was to be expected in Europe, as a result of IS' territorial losses in Syria and Iraq.
Neumann explained further that returning foreign terrorist fighters posed an increased security threat to Europe, having become radicalized abroad and thus more willing to execute further terrorist attacks in Europe. These attacks were likely to become simpler yet more frequent, and thus more difficult to prevent, according to Neumann.
"It is therefore absolutely important that Minister Kurz has decided to focus on the topic of fighting radicalization as part of the Austrian OSCE Chairmanship", Neumann concluded.
Hence, during the press conference, a lot of attention was paid to the fight against IS in Iraq and Syria and to terrorist attacks carried out by the IS in Europe. This emphasis seemed slightly out of context. It is important to clarify that the OSCE does not have law enforcement capabilities to disrupt terrorist attacks in Europe or to fight terrorism in the Middle East. That would be beyond the scope of its work, both geographically and operationally.
Rather, the OSCE's added value as a regional security organization, is to help counter violent extremism and radicalization within societies and to take a more comprehensive approach to the problem by including issues such as human and minority rights, and socio-economic issues.
This is also the focus of Professor Neumann's report. The report contains a number of recommendations on how the OSCE could sharpen its role and contribute to the fight against violent extremism and radicalization that lead to terrorism (VERLT). As the report explains, the VERLT concept is different from counter-terrorism activities, which are mostly carried out by law enforcement agencies and include measures such as the "arrest of suspected members [and] the disruption of terrorist attacks […]".
The report first suggests that the OSCE should continue its core work in the areas of "preventing and resolving conflicts, promoting human rights and safeguarding the rights of national minorities". Neumann's report acknowledges that these areas of work "address the conditions in which violent extremism can thrive".
The report also suggests that the OSCE should make stronger use of its field presences in Central Asia and the Western Balkans. As Professor Neumann stressed during the press conference, the projects by OSCE field operations that address violent extremism and radicalization, have a "model character". In Neumann's view, the OSCE should intensify its capacity building programmes in both regions and assume a "leadership role".
As a third recommendation, Professor Neumann's report suggest that the OSCE should make use of its "wide membership and convening power" and encourage a systematic exchange of best practices in countering violent extremism and radicalization. The report highlights that it would be useful to promote cooperation, allowing OSCE participating States "to learn from their partners' successes and failures" in this area.
The report also suggests strengthening the OSCE Action Against Terrorism Unit, which is part of the Department of Transnational Threats in the OSCE Secretariat, and to turn it into a "clearing house" on fighting violent extremism and radicalization.
Professor Neumann's report is a balanced assessment of activities that already take place within the OSCE, and provides a good and realistic set of recommendations on how to proceed further and strengthen practices in certain areas.
The main part of the report contains 22 case studies, analysing the counter-radicalization programmes of national governments in the OSCE area. They provide an overview of good practices and national experiences in countering violent extremism and radicalization across the OSCE area. The case studies show how governments already try to address underlying causes that lead to radicalization and violent extremism. They include programmes that help to prevent radicalization in prisons, promote community policing, support work with youth in schools, engage in dialogue with religious leaders, refugees and women, and develop counter-narratives to terrorist propaganda.
The case studies show that there is already a lot of know-how available in the OSCE area and amongst the OSCE participating States. Professor Neumann's recommendation to use the OSCE as a "clearing house" and platform to exchange those best practices is therefore extremely timely and important as it could help other OSCE participating States with less experience in this area develop more robust programmes.
The report thus shows how a soft security organization such as the OSCE has an important role to play when dealing with one of the hardest security issues of our time.