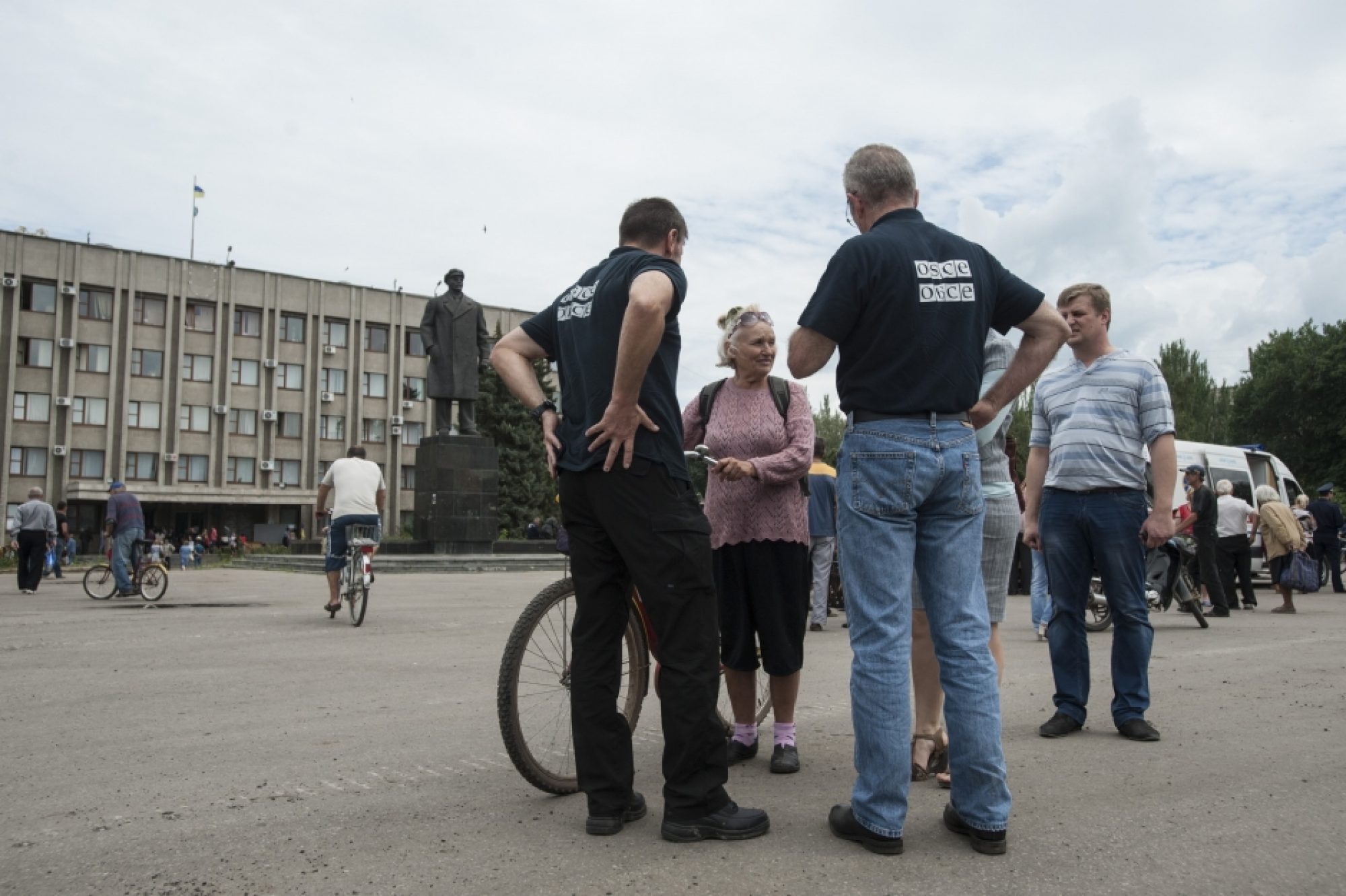 Interview with Alexander Hug: OSCE helps broker ceasefire agreement and expands the activities of the Special Monitoring Mission on the ground in Ukraine
Interviews
10 September 2014
On 5 September a ceasefire agreement was signed in Minsk to help resolve the ongoing crisis in Ukraine. The agreement was negotiated within the context of the so-called Trilateral Contact Group that includes senior representatives of Ukraine, the Russian Federation and of the OSCE Chairperson-in-Office. The Trilateral Contact Group has held several meetings in the course of the last months, including with representatives of the separatists in eastern Ukraine. The meetings were held in Ukraine but also in Minsk, as a courtesy of the Belarusian leadership. Alexander Hug, Deputy Chief Monitor of the OSCE Special Monitoring Mission (SMM) to Ukraine describes in this short interview how the SMM will expand and intensify its activities in order to monitor this ceasefire agreement and how it will report possible violations of it. As defined in the SMM's mandate, the mission "may expand by a total of up to 400 additional monitors." The interview was conducted by Stephanie Liechtenstein, Website Editor of Security and Human Rights on 9 September 2014. (See also our longer interview with Mr. Hug that was conducted on 2 September 2014).
SHR Monitor: Mr. Hug, how will the SMM adapt its activities in order to monitor the ceasefire agreement that was signed in Minsk on 5 September?
Alexander Hug: The mission has increased its presence in the region in order to intensify its monitoring activities. It now has up to 60 monitors in eastern Ukraine. The SMM will continue its monitoring activities as outlined in its mandate and will report accordingly. The mission will also provide the findings of its reports to the 57 OSCE participating States as well as to the participants of the protocol that was signed in Minsk on 5 September.
SHR Monitor: Can you describe the mechanism that has been established in order to report violations of the ceasefire?
Alexander Hug: A mechanism is being developed by the participants of the Minsk protocol in cooperation with the SMM in order to determine whether there was a violation of the ceasefire or not. The mission reports what it sees and what it hears and will make this information available to the participants of the protocol that was signed in Minsk on 5 September. That mechanism will be refined further in the coming days.
SHR Monitor: What other measures will the mission take in order to enhance its monitoring activities?
Alexander Hug: There is a principle agreement between the OSCE participating States, the OSCE Secretariat in Vienna and the SMM that Unmanned Aerial Vehicles (UAVs) can be deployed to the SMM. However, the UAVs have not yet been deployed to Ukraine. But the mission will make use of this additional tool to enhance and complement the traditional monitoring activities on the ground in Ukraine.