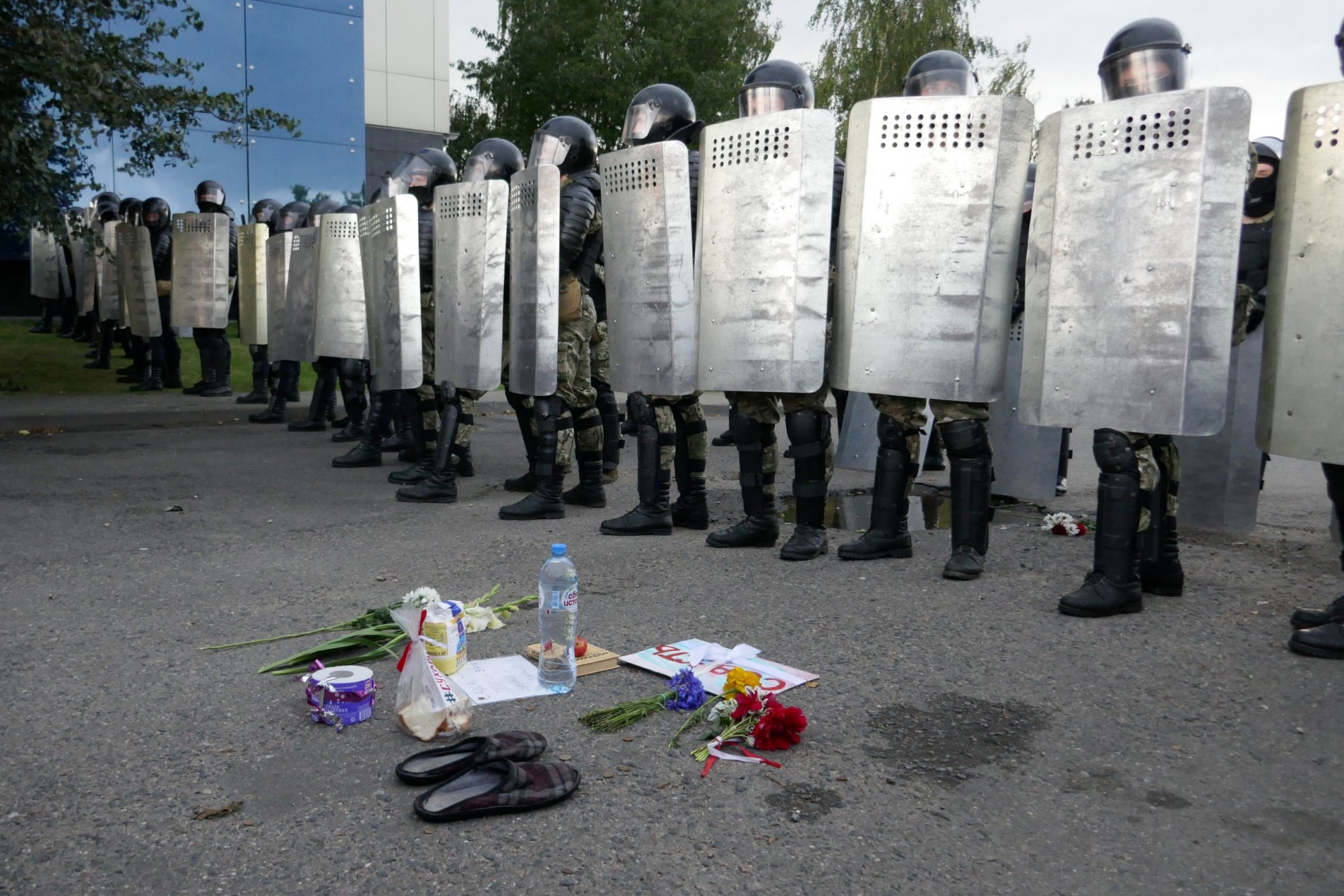 OSCE documents 'massive and systematic' human rights violations in Belarus
OSCE Moscow Mechanism rapporteur Wolfgang Benedek says "massive and systematic" human rights violations, which were "proven beyond doubt", took place in Belarus following the August 9 presidential election.
In his 58-page report, presented to the OSCE Permanent Council on 5 November, the Austrian professor of international law concludes there is "overwhelming evidence" that the vote was rigged, noting "evident shortcomings" in the basic democratic process. Benedek also says freedom of assembly, association and media, as well as the right to liberty and security, are "under massive attack" in Belarus.
The report comes as demonstrators continue holding weekly demonstrations in Minsk demanding that President Alexander Lukashenko resign. Last weekend, police reportedly detained 500 people. Meanwhile, the European Union has levied sanctions, including a travel ban and asset freezes, against Lukashenko and several of his allies.
Systematic torture
Benedek received more than 700 submissions with "pertinent information" from Belarusian citizens and organizations revealing gruesome evidence of torture and mistreatment of protesters and detainees. He cross-checked the information, which he received through a channel of communication facilitated by the OSCE Office for Democratic Institutions and Human Rights (ODIHR), mostly by interviewing victims of police violence. He also relied on information collected by a group of NGOs in Belarus, including the Belarusian Helsinki Committee.
The violence deployed by security forces against protesters after the election showcased a "systematic nature of torture, and cruel, inhuman and degrading treatment prohibited without exception by Article 7 of the International Covenant on Civil and Political Rights," Benedek found. Police violence led to "bodily injuries – fractures, bruises of various sizes, some of them covering the entire surface of the thighs, bruises on the torso, as well as mental trauma from beatings in the premises or on the territory of internal affairs departments".
Anonymous testimonies cited in the report reveal additional gut-wrenching details. For example, a couple having been detained after protests testified to Benedek directly: "We were subjected to insults, threats with the words 'such as you should be killed'; initially no grounds were given for the detention as well as no access to a lawyer was provided; mobile phones were seized; due to beatings the husband lost consciousness after which he was brought to his senses with an electro shocker, and was later forced after beatings to say on camera that 'he had no claims to law enforcement agents'; no food or water were provided to him in detention; meanwhile the wife was separately brought to the KGB facility where attempts were undertaken to force her 'to make confessions'."
Such harrowing accounts of intimidation, torture and mistreatment also include sexual and gender-based violence against women, as well as abuse of minors.
"It is particularly worrying that the well-documented cases of torture and ill-treatment in the crackdown by the security forces on political dissent have not, as yet, resulted in anybody being held accountable," Benedek says, "which is confirming allegations of general impunity, also due to the absence of fair trial in political cases".
Voices from abroad
The report has prompted reactions from the foreign ministers who had been instrumental in triggering the so-called Moscow Mechanism in September to examine alleged human rights violations in Belarus.
U.S. Secretary of State Mike Pompeo said the report "details rampant abuses in Belarus." He called on the authorities in Minsk to end "violence against peaceful protesters", adding that "Belarusians deserve the right to determine their own path through free and fair elections".
Meanwhile, British Foreign Secretary Dominic Raab said the report was a "damning indictment of Lukashenko's regime" and that it was "essential that [the OSCE's] recommendations are carried out and fresh elections are held".
A group of OSCE Ambassadors also met with Belarusian opposition leader Svetlana Tikhanovskaya last week while she was on a two-day working visit to Vienna, Austria.
Dozens of recommendations
Apart from establishing election fraud and human rights violations, the report also provides seven concrete recommendations to the Belarusian government about how to move forward. Among them, Benedek suggests authorities should "cancel the results of the presidential elections" and organize "new genuine presidential elections based on international standards", to be observed by the OSCE/ODIHR.
Another 65 recommendations address how to handle the dismal human rights situation in the country. Besides ending "all violence", Benedek recommends that Belarus release all political prisoners. He calls on the regime to "promptly investigate all allegations of torture" by an "independent and impartial body" and suggests that the government should invite the Venice Commission of the Council of Europe "to assist with necessary constitutional and other legal reforms".
Sixteen more recommendations to OSCE participating States and the international community include a plea "not to recognize the results of the presidential election" and to demand a new ODIHR-monitored election. Finally, Benedek proposes that the OSCE continue "efforts at facilitating a dialogue" and that countries should "establish an independent international body for the in-depth investigation of human rights violations … with the help of forensic experts".
Follow-up unlikely
In reality, however, any concrete implementation of these recommendations within the OSCE framework will require a consensus — which is likely to fail because of expected resistance by Belarus itself or other OSCE participating States, such as Russia.
Ahead of the OSCE Ministerial Council meeting in early December, there is even a risk that Belarus will retaliate against the 17 States that triggered the process by blocking decisions on unrelated topics.
Some diplomats in Vienna also fear negative consequences for the already complicated negotiations to appoint the OSCE senior leadership, including the Secretary General.
But they also say the report crucially provides clear facts about the dramatic situation in Belarus, with James S. Gilmore, the U.S. Ambassador to the OSCE, noting during a recent press briefing that it "asks the conscience of the peoples of all these member-states … whether this is really acceptable or not".