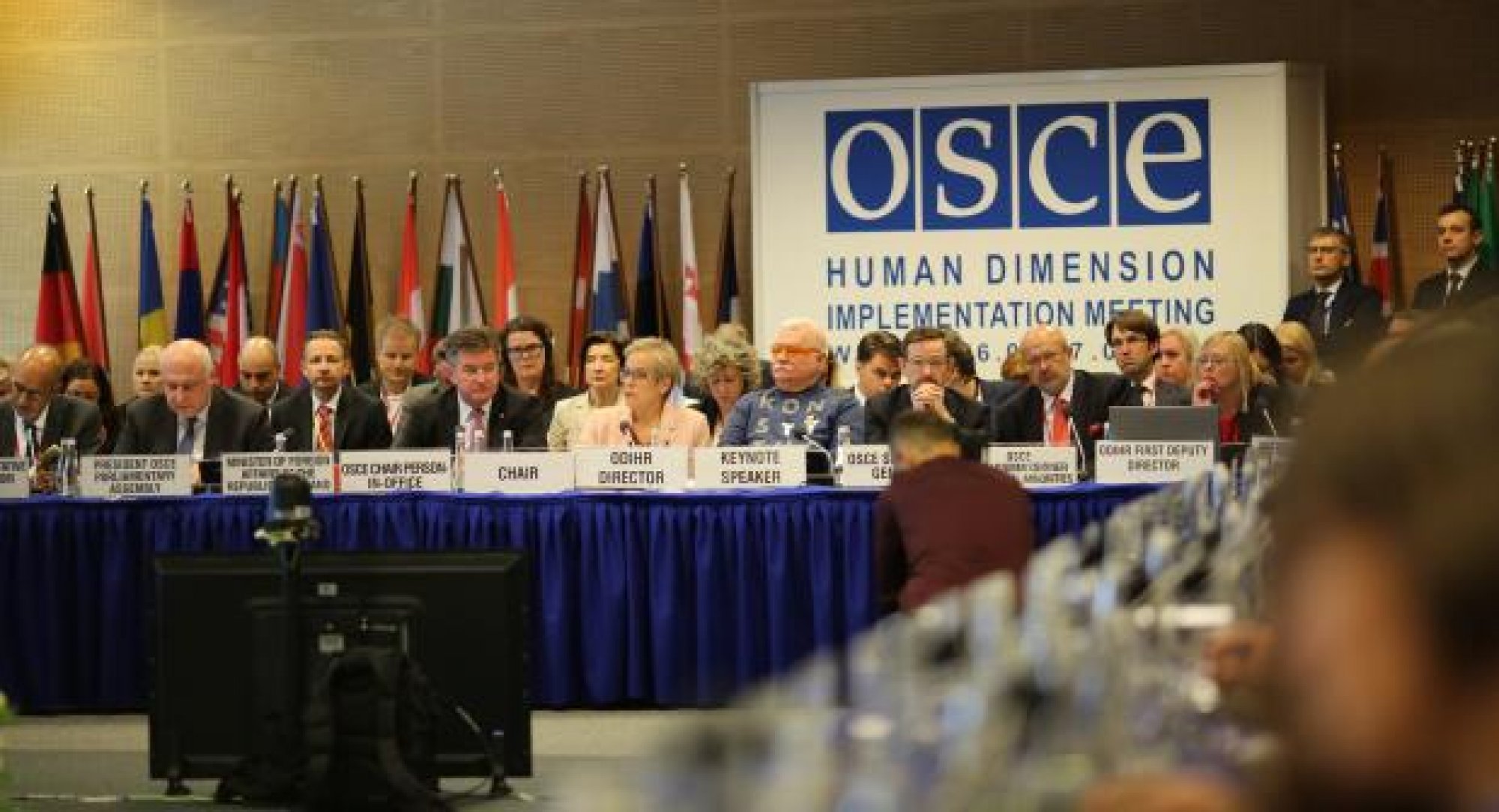 Europe's biggest human rights conference under pressure
This year's Human Dimension Implementation Meeting (HDIM) took place in Warsaw, Poland, from 16 to 27 September.
The required consensus in the OSCE's Permanent Council on timing and agenda of the meeting was reached only at the end of July, at a record-late moment. Given the late decision, the traditional meeting place at the Victoria Hotel in central Warsaw was not available any more, and the event had to move to the sports stadium on the other side of the Vistula river instead.
In recent years, negotiations on the meeting's agenda have been protracted. This year, a decision on the meeting's dates has also been prolonged. Turkey blocked the consensus and made its agreement conditional on other states' willingness to allow a veto on the participation of certain civil society organizations that, according to Ankara, associate themselves with terrorism. The Turkish demand, reflecting the overbroad application of anti-terrorism legislation in the country, would have meant an end to the generous and very low-threshold access of civil society to the OSCE's human dimension events.
While in the past individual organizations had been refused several times under pressure from participating states, and on the basis of a rule that allows the rejection of organizations supporting violence or terrorism, this seemed a more systematic assault on the presence of NGOs. The Turkish demand was therefore strongly resisted by a large number of OSCE states. The main civil society platform active at OSCE events, the Civic Solidarity Platform, also issued several statements rejecting the Turkish demands.
After endless discussions in a specially created working group of the OSCE Permanent Council, it was agreed that states would be allowed to submit reasoned requests to the Chairmanship to reject civil society participants. To allow time for this process, the registration date was set at two weeks before the start of HDIM – in the past, registration was still possible at the counter in Warsaw. In the end, Turkey and some other states reportedly submitted a number of not very well substantiated requests for refusal, with the OSCE Chairmanship accepting none of them. Turkish diplomats did not take part in HDIM, as was the case last year.
In the past, other states such as Russia have likewise demanded that the participation of specific NGOs be refused. In general, Moscow is supportive of a stricter accreditation system, but its main strategy seems to be to flood the HDIM with NGOs that support its own narrative on human rights, either on Russia itself or, more commonly, on Ukraine or on the Baltic states.
This follows the playbook of the Kremlin's general disinformation approach, famously described by Peter Ponomarev in his book 'Nothing is True, Everything is Possible'. The title of the book says it all: instead of trying to silence critical voices, create an abundance of 'information', leaving the audience stunned and in doubt of who to trust and believe.
An increase in the number of such Government Operated NGOs (GONGOs) can also be observed from other well-resourced countries such as Azerbaijan and Kazakhstan. Increasingly, HDIM speaking time is filled with statements that are based on very one-sided interpretations of human rights problems, fitting the narrative of the respective governments.
For example, a whole industry has emerged of election observer organizations that lend themselves to contradict critical reports by well-establishment observer missions such as the ones carried out by ODIHR. Famously, Azerbaijan has sought to undermine the credibility of ODIHR observation by 'inviting' a range of other observers.
At the same time, NGOs with neo-nationalist and strictly conservative agendas, that are difficult to reconcile with traditional human rights approaches, are also increasingly present at the HDIM. This phenomenon can also be observed in other fora, for example at the Fundamental Rights Platform of the Fundamental Rights Agency of the European Union.
A number of more critical NGOs, performing traditional human rights work, hardly attend the HDIM plenaries anymore. They know that no process exists that improves implementation of human rights obligations and commitments based on statements made in the official HDIM sessions. A full report is prepared of HDIM, but no mechanism exists to separate evidence-based and well-thought through recommendations from politicized ones, that are not in line with a human rights-based approach.
For many of these traditional NGOs, the value of HDIM lies in the possibility to be in touch with diplomats and colleagues, and to organize and follow side events on the latest reporting and campaigning on human rights in their respective region. Around eighty of such side events are held at HDIM every year. With an average duration of 90 minutes, the total time they cover far exceeds the official sessions' total time.
At this year's HDIM, I attended side events on youth and the climate crisis, on sanction regimes for human rights abusers, on new reporting by ODIHR about freedom of assembly, and on the invocation of the Moscow mechanism with respect to Chechnya. Not all with tremendous speakers or groundbreaking new information, but always with real experts on the matters, and with people to contact for follow-up questions, cooperation or advocacy.
So HDIM remains a vital conference and continues to provide an impetus for human rights work and human rights thinking in the whole OSCE area.
*Harry Hummel has been active in human rights NGOs since 1972, working in a range of positions in Amnesty International and the Netherlands Helsinki Committee (NHC). He currently works as Senior Policy Advisor at the NHC. He has engaged in OSCE-related human rights advocacy since 2010.