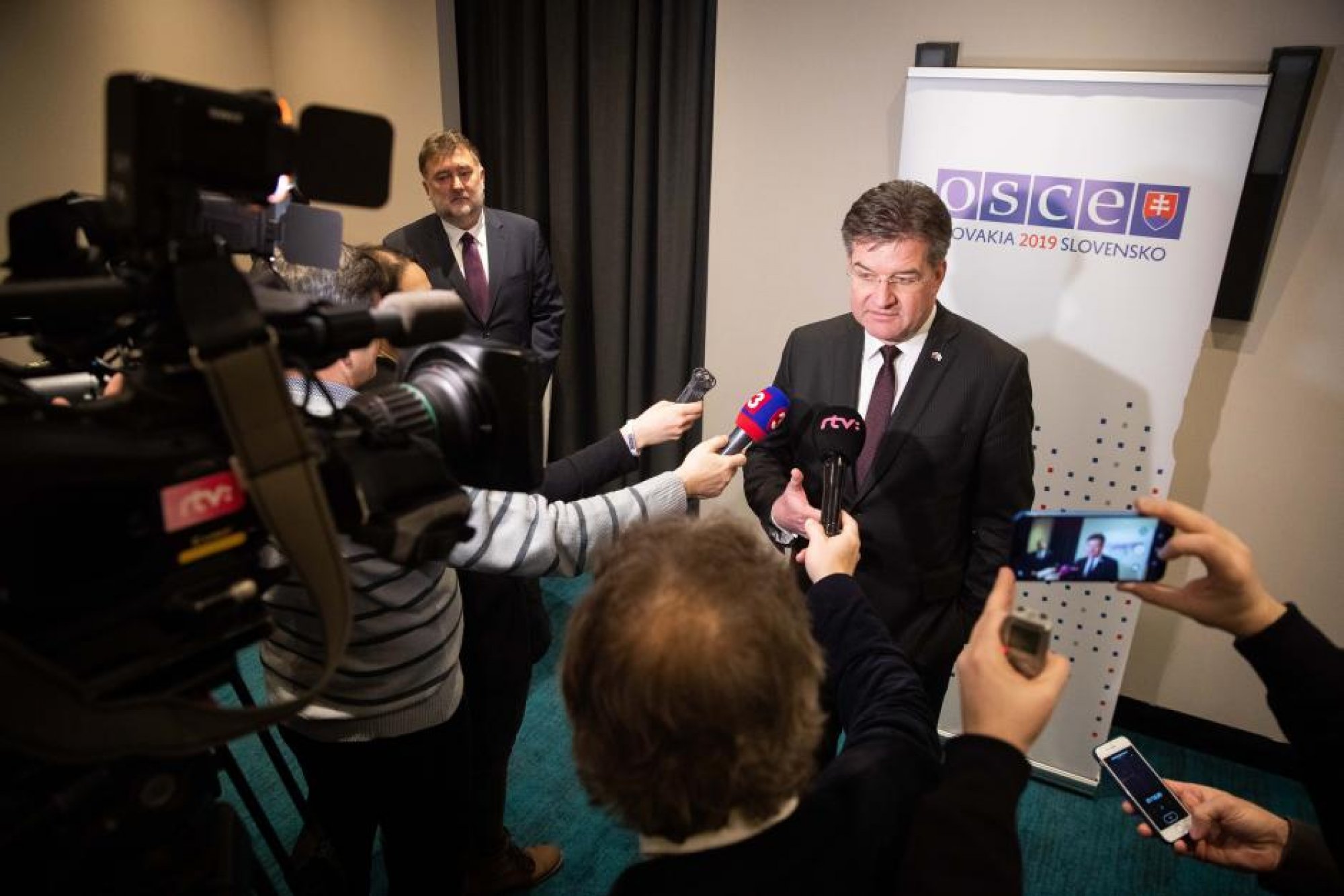 Effective Multilateralism at Core of Slovakia's 2019 OSCE Chairmanship
Following a yearly tradition, the new OSCE Chairperson-in-Office (CiO), Slovak Foreign Minister Miroslav Lajcak, gave his first speech to the OSCE Permanent Council in Vienna on 10 January. This speech sets the stage for Slovakia's OSCE Chairmanship and gives the new CiO an opportunity to explain the country's OSCE priorities.
In his speech, Lajcak called on all states to recommit to "effective multilateralism". He warned that multilateral systems and the rules-based international order were "under mounting strain". "For every challenge we want to overcome – from terrorism to climate change – none of us can do it alone." This could, however, not be achieved from "impassionate speeches or statements alone" but "through action", Lajcak said.
Lajcak also said that currently "one delegation" was blocking the approval of the 2019 OSCE Unified Budget. The issue is linked to a lack of consensus on the scales of contribution. To solve the issue as quickly as possible, the Slovak OSCE Chairmanship will convene a separate working group already in January.
As a main priority during its OSCE Chairmanship, Slovakia wants to mediate, resolve and prevent conflicts and to focus "on the people who are living through it". In his speech, Lajcak called the situation on the ground in Ukraine "alarming". He referred to the "crisis in and around Ukraine" as well as to the "illegal annexation of Crimea". He also said that "the situation in the Kerch Strait and the wider area" was a "major cause for concern".
It should be noted that Foreign Minister Lajcak followed up these words with a visit to Ukraine. He travelled to Kyiv on 15 January where he was briefed by members of the OSCE Special Monitoring Mission and the OSCE Project Coordinator in Ukraine. He also visited the entry-exit point in Stanytsia Luhanska to witness the impact of the conflict on the people on the ground. Furthermore, he met with OSCE monitors in Severodonetsk and encouraged them "to keep up their good and important work", as Lajcak stated on Twitter. Finally, Lajcak also handed over 24 tons of humanitarian aid from Slovakia to the Luhansk regional children's hospital
As another major priority, Slovakia will focus on providing a safer future for all. "The truth is, we don't know what the future will bring. We are still in the dark about the role communication technologies, artificial intelligence or energy innovations will play in our security landscape, years from now," Lajcak stated. To achieve this goal, Slovakia wants to engage with young people and find together ways to "prevent radicalization, counter climate change and spur sustainable development".
Miroslav Lajcak is an independent Foreign Minister without party affiliation. He resigned from his post in November in protest of the Slovak's government decision to withdraw from the UN migration pact. He revised his decision later when he was assured by Slovak Prime Minister Peter Pellegrini that Slovakia would not change its general foreign policy course.
Lajcak was also President of the UN General Assembly until September of last year, and thus has a strong international profile that can help provide political leadership to the OSCE.
Make sure you follow SHRM news to stay up to date with Slovakia's OSCE Chairmanship throughout the year.