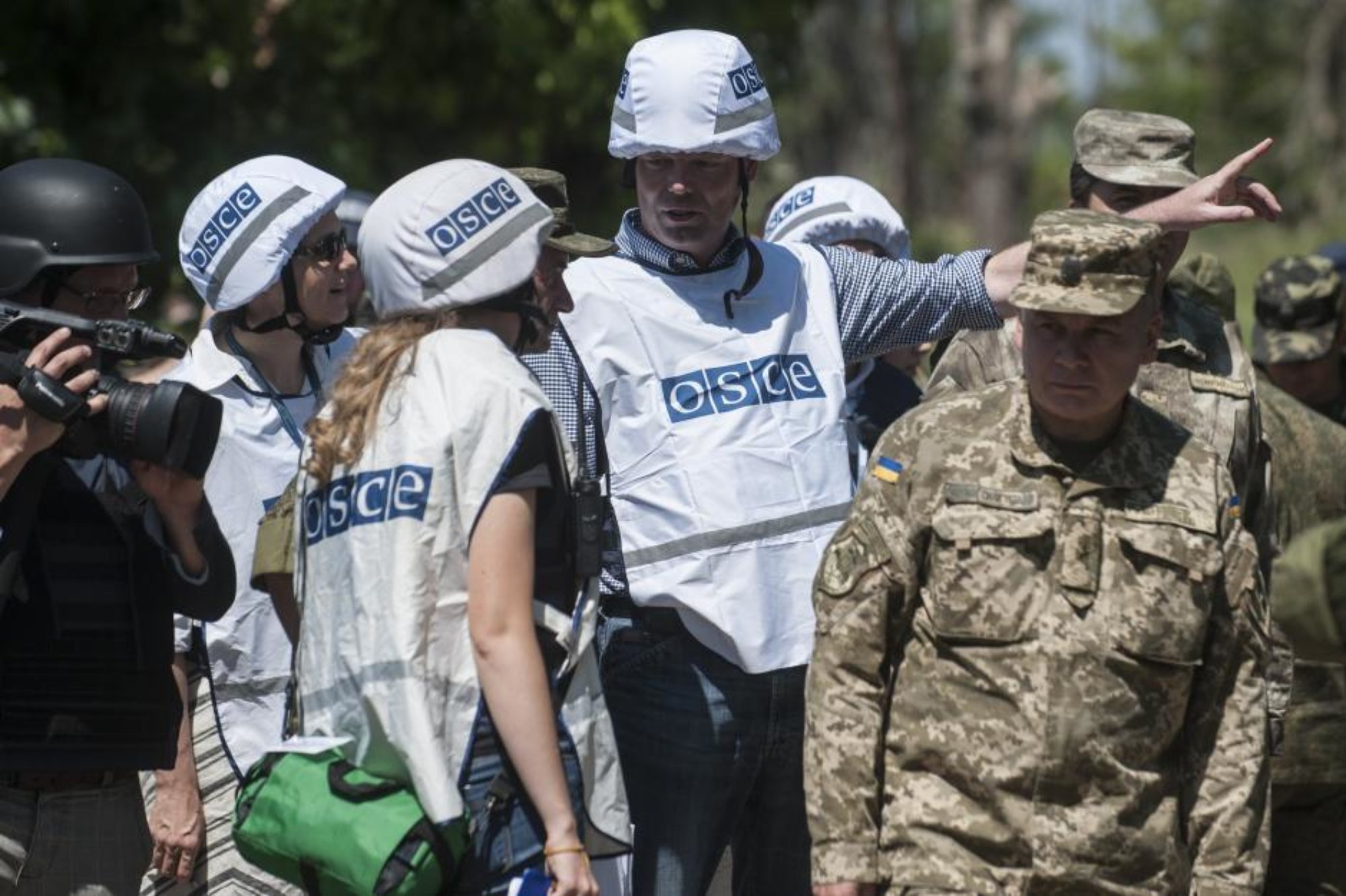 Called to the Stand: The OSCE Special Monitoring Mission and War Crimes Evidence in Ukraine
International outrage over Russia's illegal war against Ukraine is palpable. News headlines have been dominated by war crimes revelations and calls for accountability. Meanwhile, political momentum is fast building behind a UN-endorsed Special Tribunal to try senior Russian officials, Putin included, for the crime of aggression.
And yet, while public discourse has focused on the gruesome reality of Russia's war against Ukraine, little has been said about the preceding years. This is a period already in legal scope: the International Criminal Court's investigatory remit in Ukraine extends to 21 November 2013, and the European Court of Human Rights has formally recognised that Russia had "effective control" over Crimea and parts of the Donbas since February and May 2014, respectively.
Whether it is a national or international court, legal inquiry will undoubtedly turn to Russia's eight-year military campaign in eastern Ukraine in the lead up to its full-scale war. This is where the now defunct OSCE Special Monitoring Mission can once again take centre stage.
Ceasing operations on 31 March in the wake of Russia's invasion, the Mission held a vast archive of internal documents and media, spanning nearly a decade of fieldwork in the Donbas and other parts of Ukraine. Among these files are detailed, first-hand accounts of ceasefire violations, civilian casualties and human rights violations. As supporting evidence, this information will play a cornerstone role in any forthcoming judicial forum.
But is the OSCE ready to play the role of chronicler for war crimes investigators and legal counsel?
The OSCE in Ukraine: A wealth of untapped data
On 21 March 2014 the OSCE launched its Special Monitoring Mission (SMM) of 100 unarmed civilians tasked with reporting on the security situation, fostering peace and facilitating dialogue. Though Crimea was the initial focus, the outbreak of war in the east saw operational priorities quickly shift to Donetsk and Luhansk Oblasts.
The OSCE SMM went on to far exceed international expectations. From its humble beginnings, the mission grew exponentially, morphing into an enduring presence in the country and standing at 1300+ national and international staff before its closure.
The Mission brought about a paradigm shift in what a multilateral, civilian crisis management operation could achieve. At its height, multinational patrol teams operated out of five duty stations and nine forward patrol bases along the 500 km line of contact. Around 50 patrols were deployed a day in armoured vehicles to hot spots, weapons storage sites, border crossing points and among the Donbas' communities.
The mission became increasingly technologically sophisticated, adding UAV platforms, static cameras, and access to EU satellite imagery to its repertoire of observation tools. As the years progressed, the scale of data collection both on the ground and via remote means was truly immense.
So, what does this mean for evidence collection?
It means there are literally petabytes of multimedia files lurking in the OSCE's servers, covering its daily patrols, operational planning, extensive UAV flights and 24-hour video coverage of the front line.
This goes far beyond what is published on the OSCE website – the daily reports, fortnightly status updates and occasional thematic studies – which reflect highly selective and heavily summarised accounts of the Mission's findings. Investigators and legal teams will be less interested in polished online reports and more on the first-hand observations (and limitations) of patrols. These files, which once played a supporting role in the daily churn of the OSCE's reporting cycle, now hold intrinsic value as rich seams of information.
The OSCE needs to act now.
There is an organisational imperative to prepare for the investigatory and court room challenges that lie ahead. The greatest gains can be made whilst institutional memory is still fresh, rather than languishing on data repositories for years until a call for evidence is made.
Simple steps now for significant dividends later
First, a robust stocktake is needed to assess the integrity of the Mission's data, not only ensuring that all relevant files are retained and secure, but systematically reviewing where gaps in coverage are apparent. Concurrently, footwork can be done to triage information priorities. Circumstances of mass civilian casualties, such as the January 2015 rocket attacks in Volnovakha and Mariupol, have obvious resonance for legal inquiry. OSCE staff, too, may find themselves as witnesses testifying before court and will need legal and welfare support.
This stocktake, prioritisation and employee outreach could save months, if not years, for legal stakeholders, whilst ensuring that critical information requirements are identified and a sharing framework agreed.
Beyond data integrity, a comprehensive and impartial assessment is needed on the strengths and weaknesses of the SMM – its training, decision-making and organisational learning processes. The OSCE and its participating states should be frank about what did, and did not, work well. Omissions and inconsistencies will need to be explained, whilst fine-tuned capabilities showcased. This is not just about reputation management, but recognising any potential challenges to the OSCE's credibility.
The organisation should already be cognisant of this risk – it is not first time its internal workings have come under legal scrutiny. In 2006, the OSCE's Kosovo Verification Mission (KVM) came under fierce criticism in the International Criminal Tribunal for the Former Yugoslavia. The Counsel of the Accused critiqued the field mission's admissibility as evidence, asserting that "the underlying reports furnished by the KVM are both biased and unreliable." (Exact quote can be found on page 7846, paragraph 14-20).
Likewise, the OSCE SMM will face the same laser-focused examination by defence counsel representing Russia, eager to discredit or dismiss OSCE patrol findings. Mitigation steps can be taken now to anticipate and, where necessary, acknowledge the limitations of OSCE reports.
A window of opportunity in 2023
A legally-oriented review of the OSCE SMM is both feasible and desirable. The OSCE's Secretariat has the mandate to set these processes in motion as a continuation of existing programmes. Moreover, political backing in the OSCE Permanent Council and Parliamentary Assembly can help formalise expectations and secure offers of extra-budgetary support.
The OSCE SMM to Ukraine met an untimely end in 2022, but its archives live on as an historic record of eight years of war in the Donbas. With the investigative appetite for evidence only increasing, the onus sits with the OSCE to put its best foot forward now for when the time comes to open its books.
William Goodhind was a Monitoring Officer with the OSCE Special Monitoring Mission to Ukraine in 2015-17 and 2020-22.